---
Real-Time Marketing Dynamics 365 Marketing Tips
Real-time marketing emerged as a useful toolbox for sales and marketing teams in the last year or two. The most advanced, robust CRM systems in the market are racing to mature the real-time marketing tools they offer because the potential for sales teams is so clear.
If you're unfamiliar with real-time marketing, this is a good foundational read about outbound vs real-time marketing strategies.
Cobalt is a B2B SMB tech company that sells better CRM solutions with sales and marketing support software. As we migrate more of our marketing efforts to real-time marketing tools, we're seeing a strong payoff.
Our sales team increased revenue by 106% in the last two years after a 278% bump in qualified leads from 2019-2022. But real-time marketing has huge potential for all kinds of businesses and industries.
In this post, I dig into some tips, best practices, and reasons to give real-time marketing some serious attention at your organization.
Real-Time Marketing Developments in Dynamics 365 Marketing
There are two marketing areas in Dynamics 365 Marketing — Outbound Marketing and Real-Time Marketing. Both are included in the D365 Marketing license and there's overlap in what you can do with them. You can create customer segments, design marketing emails, and send out communications in both areas, but the functionality varies slightly in each area.
If you've been keeping up with the Dynamics 365 Marketing Release Waves over the past year, you will notice there isn't a lot of new functionality being rolled out to the Outbound Marketing area — it is all in the Real-Time Marketing area. In December 2022, Microsoft confirmed all future investments in D365 Marketing will be rolled out to the Real-Time Marketing area.
Nothing in the Outbound Marketing area is being deprecated yet, but if you want to take advantage of new D365 Marketing features, it is in your organization's best interest to begin getting familiar with Real-Time Marketing now. However, you can use both areas at the same time, so you can also pick and choose when to use which area.
Change is scary, and if your organization has been predominately using outbound marketing tactics, you might be wondering—why should I switch to real-time marketing strategies? I've outlined five reasons why we are beginning to make the change to real-time marketing — along with two reasons you may need to keep certain campaigns in the Outbound Marketing area of D365 Marketing for now.
This list covers the differences in functionality between the two areas that may seem the same at first, but we all know the devil is in the details. There are bigger differences in functionality that aren't detailed below, because they are much more obvious. These differences are also the ones that are most relevant to companies similar to us.
If you are interested in learning more about the big picture differences, or the differences that are more relevant to B2C companies, please reach out! These are exactly the conversations we love to have in our product showcases.
#1: Lead-based segments for "sales-first" organizations
Both Real-Time Marketing and Outbound Marketing have a segment builder, which staff can use to define an audience for a campaign. However, segments in the Outbound Marketing area must be based on a contact.
Cobalt is a "sales first" organization, which means our business development representatives and account executives are usually the first people to make contact with prospects. Our sales team exports leads from ZoomInfo or LinkedIn Sales Navigator into our D365 Sales environment and work those leads through D365 Sales sequences. They only create related contacts and accounts from those leads once they've made contact.
If our sales team doesn't make contact with someone, they will eventually reassign the lead to marketing for a long-term nurture campaign. Because we never made contact with the lead, the sales team never created the corresponding contact and account.
If the marketing team wanted to use D365 Outbound Marketing for nurture campaigns, they had to create the corresponding contact. This was an issue from both a process standpoint and a storage standpoint. Real-time marketing allows marketers to create outreach based on leads, which saves them the extra step of creating a contact.
#2: Easy to use segment builder
D365 Marketing is typically paired with D365 Sales, which is an enterprise-level CRM that allows for complex relationships between tables. However, that complexity can be difficult to navigate for new users in the Outbound Marketing segment builder because the staff member creating the segment needs to understand where information is stored.
The real-time marketing segment designer is much more intuitive. It guides you through the process of defining which relationship you want to use with a series of pop up windows instead of needing to sort that out on your own. You can see here how easy it is to define a segment of all primary contacts at consulting companies.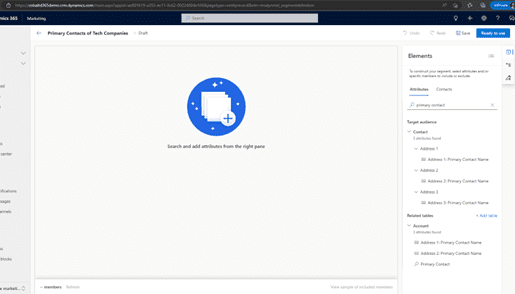 This is significantly different than the view and process in Outbound Marketing segment designer for Dynamics 365 Marketing. In that area, you are basically left to figure out the relationships without much guidance.
#3: Increased personalization options = fewer emails to set up
As your business and marketing operations expand, you begin to realize a generic contact form on your website isn't going to cut it anymore. You have different product lines, a variety of white papers, recorded webinars, etc. that all play a part in your overall marketing strategy.
Each of these calls to action require a different landing page… and a different series of follow-up emails. If you have 25 different white papers available for download on your website, creating 25 different follow up emails is a gigantic, tedious pain.
Luckily, the real-time marketing email designer in D365 Marketing comes with extremely robust personalization options. This means you can use the same email template for different messages.
Here is our real-world example: Cobalt has tons of different guides available on our website for download. Website users fill out a form, and then we send the guide in a follow-up email.
With Real-Time Marketing, we can look at the form that was submitted on the website, and use that information to control what the follow up email looks like (including what links the email includes).
We have used the new personalization and conditional content settings to include the name of the white paper in the email. We also show a different download link depending on the name of the form that was submitted.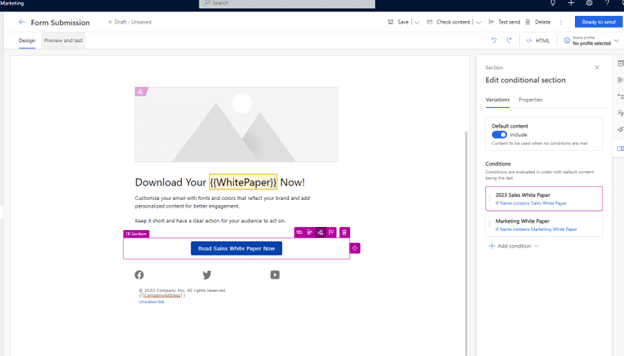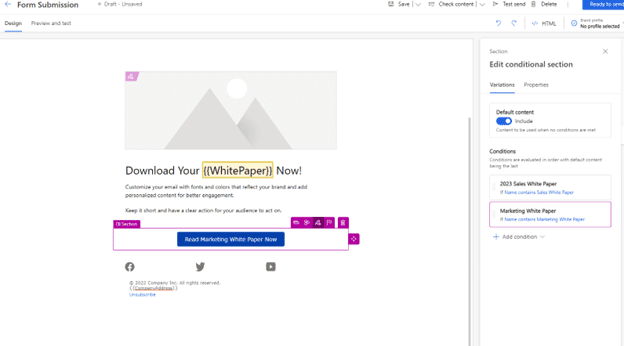 Note: if you want to see the conditional logic in action, check out my video on dynamic content.
#4: Faster, more timely emails
Real-time marketing and outbound marketing use customer journeys to send out communications. Both customer journey designers include an easy-to-use, drag-and-drop interface. You'll have the ability to create if/then branches based on customer behavior (if someone opened an email, if someone clicked on a link, etc).
However, the people included in an outbound marketing customer journey need to have submitted a D365 Marketing form, be part of either a segment, or be part of a subscription list. This means if you want to trigger a journey based on a newly created order, you need to create a dynamic segment that looks for contacts that fall into that query.
Dynamic segments reevaluate about every 15 minutes, so it can take 15 minutes for someone to be added to a segment, and then another 15 minutes for that customer journey to kick off. A 30-minute lag time for batches of marketing emails is fine in some scenarios, but if someone is expecting an email seconds after they complete an action — like cancelling a webinar registration — this is an issue.
Luckily, real-time marketing journeys can be kicked off when someone is added to a segment or when something "happens." So, you can set up a journey to kick off when someone cancels a registration, a new order is created, etc.
Real-time marketing cuts out the step where someone must be added to a segment. And that means your emails go out in moments instead of minutes.
#5: Segmentation within the journey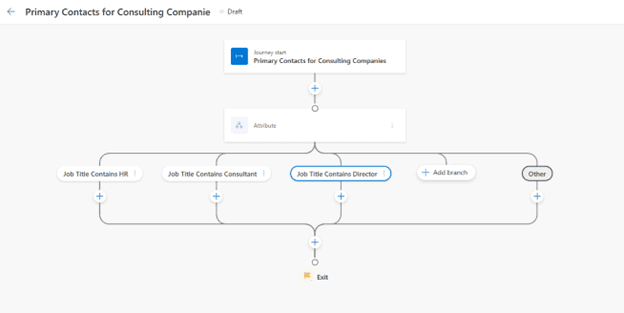 Marketers know how important it is to send relevant messages to the right person. If you are selling a CRM solution, you most likely don't want to send marketing emails to a Marketing Coordinator touting the security benefits of your solution. They aren't going to care because security isn't their job. You need to tell them about the things that they care about—a social media scheduler, an easy-to-use email designer, etc.
In outbound marketing, that level of segmentation needs to be created in the segment designer. For example, if you want to run a campaign that targeted all primary contacts at consulting companies ranging in job function, you have to create separate segments.
In real-time marketing, however, you can create one big segment for primary contacts at consulting companies, and segment the prospects by job function within the customer journey.
2 pitfalls of switching to real-time marketing
As our marketing team at Cobalt started to switch from outbound marketing to real-time marketing strategies in Dynamics 365, we've already run into two reasons we needed to keep certain campaigns in the Outbound Marketing area.
Let's hopefully save you a couple hours (at least), here!
Behavioral Based Segments
In the Outbound Marketing area, you can create segments based on customer behavior. For example, you can create a segment of people who visited a certain page on your website. When a contact visits this page, they are added to this segment, which can then be used in a customer journey to kick off follow-up communications.
Behavioral segments are not available in the Real-Time Marketing area yet, but Microsoft plans to roll out this functionality as a preview feature in March 2023.
If you are using behavioral segments currently, you should keep those in the Outbound Marketing area for now and wait until that functionality is available in Real-Time Marketing.
Combing Audiences in Customer Journeys and Automatic De-Duping
In the Outbound Marketing area, you can combine different segments and subscription lists in the customer journey. If there are any duplicate email addresses, D365 Marketing will automatically de-dupe those contacts once the journey kicks off so people don't receive the same email twice.
This is good if you have a couple of different segments (i.e. a different segment for each group of webinar attendees) and you want to promote an upcoming webinar to all of those different segments. If someone attended multiple webinars, they would only get that promotional email once.
Currently, users can't combine multiple segments or lists in the Real-Time Marketing area because it wasn't designed for that kind of bulk emailing. Additionally, because of the emphasis on "moments based" marketing, there is no automatic de-duping functionality in Real-Time Marketing.
The idea is if someone cancels multiple webinar registrations, they should go through the journey for each cancellation. If your organization is combing multiple segments and lists and relying on D365 marketing to deal with duplicate email addresses, you should continue to use the Outbound Marketing module for those campaigns.
---
Where Can Real-Time Marketing Help Your Team?
So many marketing trends are already over before most teams are up to speed on how to capitalize on them. Real-time marketing is a significant area of focus this year and we'll continue to see new tools and processes to support it in the near-term.
If your organization doesn't have a robust marketing department, there's still a lot you can do for sales support with real-time marketing in Dynamics 365 Marketing. There are even some built-in marketing components of Dynamics 365 Sales that we could show you.
Just reach out through the link below to let us know you'd like to see what these tools could do for your team. We'll schedule a short conversation as a part of our product showcase and help you see exactly what the value would be for your sales and marketing efforts.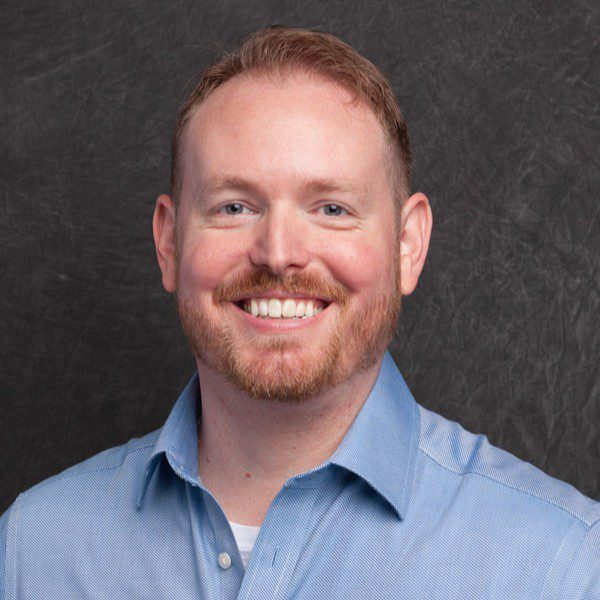 Connect With a CRM Expert for SMBs
When you're ready to start the conversation about your organization's needs and what Microsoft Dynamics 365 can do for your team, let's save some time for a product showcase.