As you think about marketing strategies for your business, let's look at the outbound marketing vs real time marketing possibilities in Microsoft D365 for Marketing. Microsoft's marketing solution gives you both options with strong functionality, but if it's not always clear when to leverage the tools in their outbound marketing vs real time marketing, I can help you today.
As a Microsoft Gold-Certified partner actively using D365 Sales and D365 Marketing to drive our outreach and achieve our revenue goals, we know their strengths and can help guide you in the right direction in this post. If you are looking for a partner to help implement Microsoft D365 for Marketing, or you just want to take a deeper dive on what it can do (with or without Dynamics 365 Sales), let's schedule a product showcase.
Definitions: Outbound Marketing and Real Time Marketing
Let's make sure we are on the same page with the core terms and marketing options we are talking about. Many people are familiar with inbound and outbound marketing, but real-time marketing is a much newer term and something that many professionals still are not familiar with.
What is Outbound Marketing?
Outbound marketing is a broad term for messaging, advertisements, and other communications that attempt to attract sales lead prospects who might not be aware of your product, business, or service. Another distinction is that the typical recipient is not actively searching or shopping for what you are selling. This is why it is also known as interruption marketing. Your message interrupts or brings an unexpected awareness of your brand or product to the recipient's attention. Modern outbound marketing efforts include unsolicited phone calls, cold email marketing campaigns, posts and promoted social media campaigns, and advertisements on websites.
What is Inbound Marketing?
Inbound marketing offers valuable content and resources on topics and products as a way to attract prospective buyers or customers, build brand awareness and authority, and drive lead conversions that translate into sales and revenue. Inbound marketing uses search engine optimization, landing pages, custom content assets, social media campaigns, and more to guide prospects down the buyer journey. Inbound marketing uses different channels than traditional outbound marketing (billboards, mailers, radio and t.v. ads) and offers prospective clients something valuable based on what they are searching for (instead of broadcasting a message to the general public).
What is Real Time (or Real-Time) Marketing?
Real time marketing is a subset or specific strategy within a company's marketing tools. Real time marketing attempts to respond to or connect with lead prospects or current customers in the moment to move them farther along the customer journey. An outbound marketing strategy might use a social media campaign to drive lead prospects to a landing page where they can download an e-book or infographic about a topic or product they are interested in. Real time marketing could look like direct engagement with prospects in the social media posts, answering questions in real time chat sessions on the landing page, or using feedback from an email lead nurturing sequence to refine the messaging in the inbound marketing campaign.
Outbound Marketing vs Real Time Marketing in the D365 Marketing Interface
As a Dynamics 365 Marketing user, all of the tools are grouped into two modules: outbound marketing and real-time marketing, along with a third section specifically for event planning. You can toggle between the outbound marketing and real-time marketing modules easily by clicking in the lower left-hand corner of the D365 Marketing interface.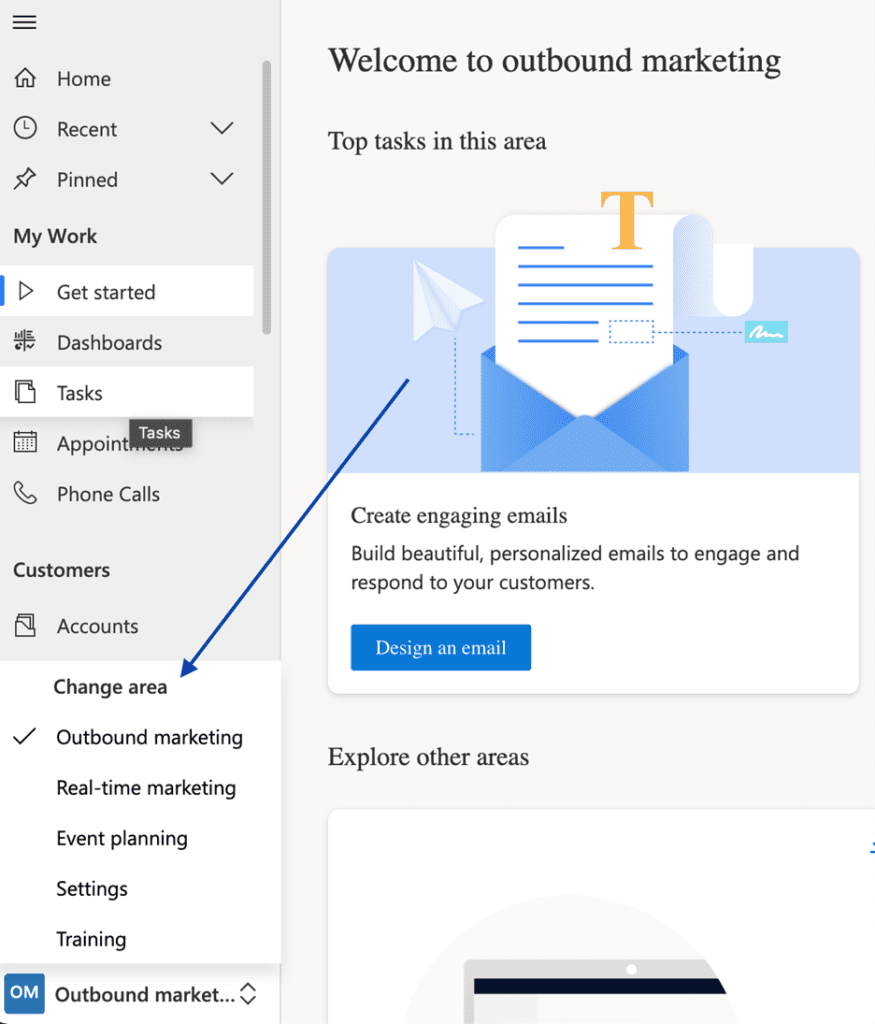 Within the outbound marketing module in D365 Marketing, you will find:
Personalized tools to organize and prioritize your work that all seamlessly integrate with Office 365, the Power Platform, and Dynamics 365 Sales (customizable dashboards, a task list, appointments, phone calls)
Many marketing templates (customer journeys, emails, webpages, forms, segments, phone calls, tasks, appointments, and more)
Tools for organizing and segmenting your customers and contacts
Marketing execution tools (customer journeys, marketing emails, social posts)
Event management tools
Lead management options (including customizable scoring models)
Internet marketing tools (marketing pages, forms, and websites)
Tools to organize your marketing content (files, keyword lists, reusable blocks of content, videos, customized personal pages)
LinkedIn Lead Gen integration tools
Within the real-time marketing module in D365 Marketing, you will find:
Tools built to help you manage engagement with customers and prospects (journeys, analytics, triggers for contact/follow-up)
Tools to segment your audience and manage their consent around your communication
Content grouped by channel (email, push notifications, text messages)
A real time marketing assets library, templates, and tutorials for how to get started
When to Use Outbound Marketing vs Real Time Marketing
I want to dive into when to use these outbound marketing vs real time marketing tools with some very practical, hands-on examples from Dynamics 365 Marketing. Let's start with one of the most common marketing goals: lead management.
When your focus is collecting and managing leads:
Use outbound marketing
With Outbound Marketing inside of Dynamics 365 Marketing, leads can be easily added, edited, and converted to opportunities manually. But the functionality does not stop there; the outbound marketing tools have automated processes that create and rank leads.
Customer journeys can be set up to convert individuals to leads through actions in the designer, and the lead scoring module lets you grade and score your leads. This will help your sales team (and marketing team, if you have one) clearly prioritize outreach and follow-up attention for the prospects that are most like to buy. If you have not seen D365 Sales, or how D365 Marketing makes a great add-on for sales teams who do not have a dedicated marketing staff, check out our summary page.
Lead scoring can be notoriously difficult, but Microsoft has built sophisticated automation into their lead scoring tool. It knows exactly when points should be added to or taken away from a lead's score. When a lead reaches a pre-defined score, it can be automatically set to 'opportunity ready' for your sales team. Additionally, you can set up scoring levels like cold, warm, and hot to rank your leads with the highest potential of being converted to customers.
The built-in real-time marketing tools in D365 Marketing do have triggers and actions for leads within the customer journeys, but that's about where the lead functionality stops. So, when you are focused on collecting, managing, and prioritizing lead prospects, we recommend using the outbound marketing tools in Dynamics 365 Marketing.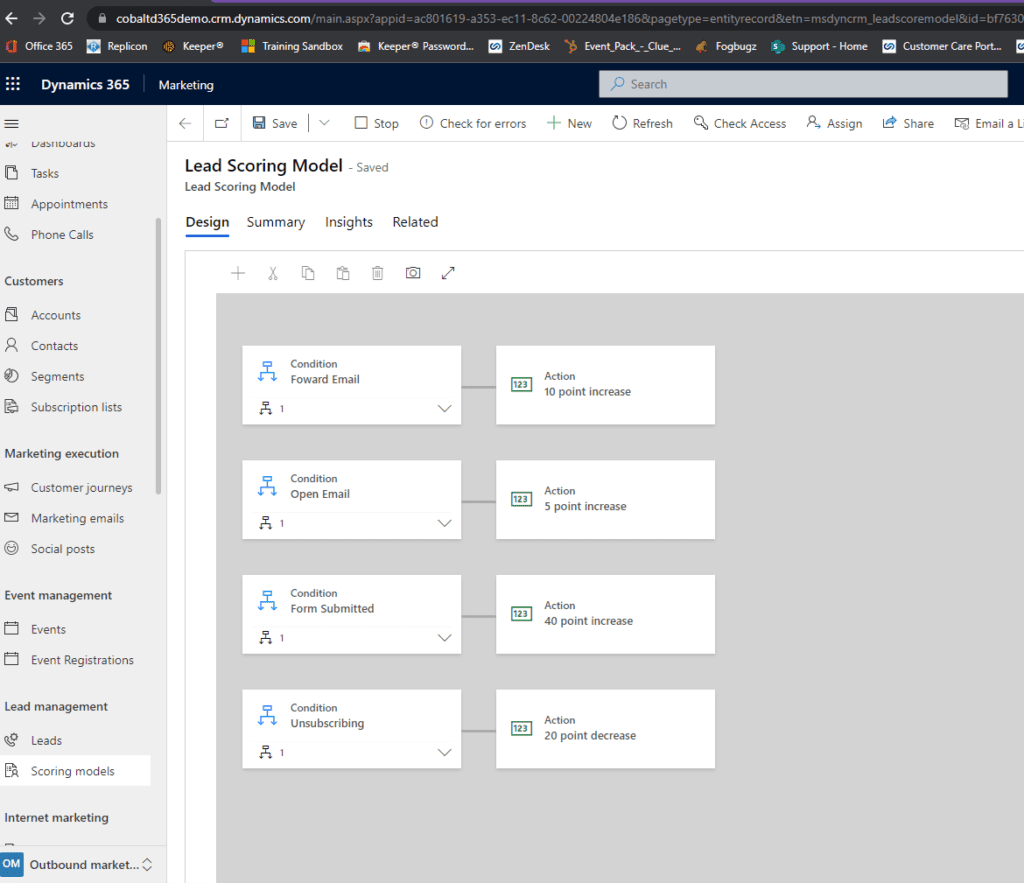 When your focus is driving immediate customer action:
Use real time marketing
One of the Real Time Journeys' greatest strengths in D365 Marketing comes from the flexibility of its event-based triggers. Out of the box, the platform comes with over 30 pre-configured triggers that are commonly used in marketing.
Some examples are:
when a push notification is opened
when a text message link is clicked
when a survey response is submitted
But you can even create custom triggers that are specific to your business needs. Triggers can be used to kick-off your journey and as if/then branches throughout your journey. This flexibility lets you interact with potential customers in time-sensitive scenarios – all of which can significantly increase the likelihood of you closing the deal. One recent study found that strategic real-time marketing strategies like this can increase conversion rates by 26%.
In this scenario, Outbound Marketing in D365 does offer some event-based functionality, but the real time marketing options are stronger for your team here.
When your focus is targeting a larger audience:
Use outbound marketing
While both outbound and real-time marketing tools have the option to use segments to start customer journeys, Outbound Marketing does not offer event triggers the way that Real Time marketing does. This means that while using outbound customer journeys, you are more likely to target a larger number of individuals. There are exceptions, but a good general rule is that real time marketing is more effective with smaller groups or individuals.
Additionally, outbound marketing offers forms, landing pages, and immediate or scheduled social media posts. Landing pages and forms can be embedded on websites or blogs to capture the contact information of interested individuals. Lastly, outbound marketing can post to your personal or organization's social media platforms for you. All the functionality described lets you reach a wider audience and capture interested parties.
As we said, real time marketing does let you configure customer journeys that start with segments, but it does not offer forms, landing pages, or social media posting like outbound marketing does. In this scenario, outbound marketing wins out.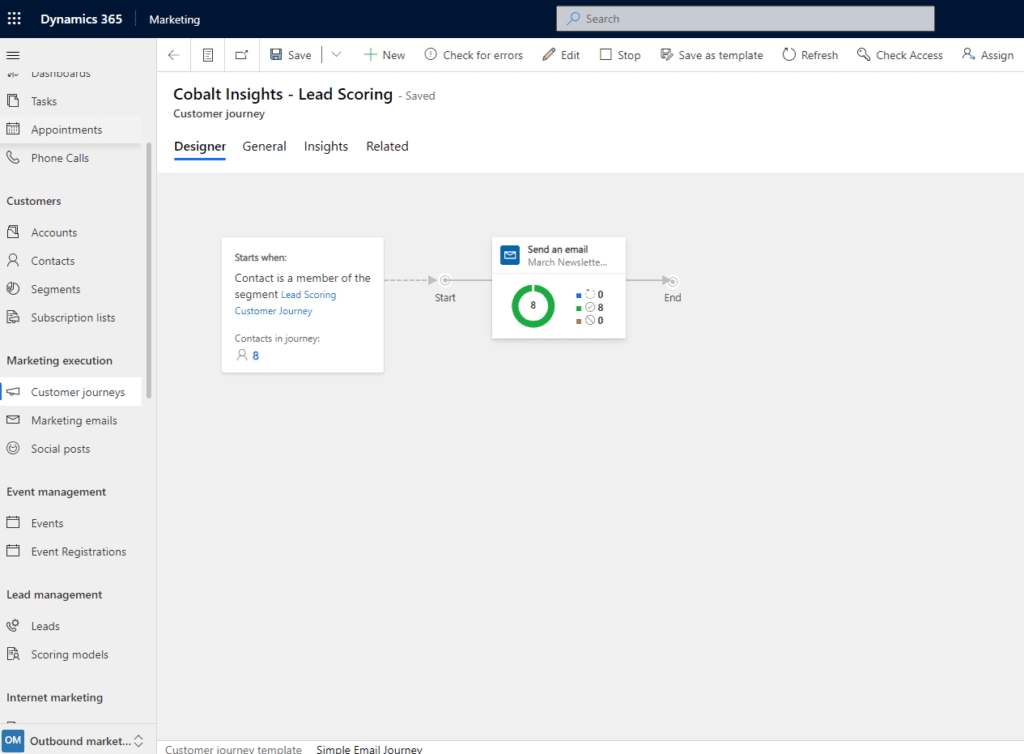 When your focus is more personalized communication channels with customers:
Use real time marketing
Both real time and outbound marketing offer automated email communication with customers. But real time marketing takes personalized communication a step further by allowing for text messages and push notifications communication. These options allow you to reach individuals across many mediums in critical moments of decision making along the buyer journey. Real time marketing even has analytics that can show you which communication channels are performing the best, so you can optimize your efforts over time and give more energy to the strategies that are actually paying off for your team.
Outbound marketing gives you the option to create activities that serve as reminders to contact customers, but it cannot automate the activities for you. Since your personalized communication options are more limited with the inbound marketing tools, we recommend real time marketing in this scenario.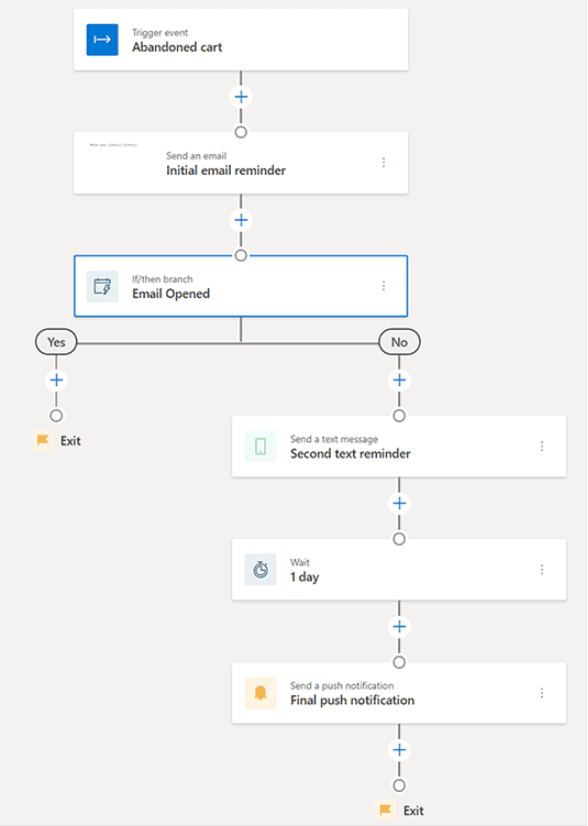 Outbound Marketing vs Real Ti
me Marketing Summary
I hope this post sheds more light on the ideal times and ways to leverage both the outbound marketing and real time marketing strategies in D365 Marketing with your lead prospects and current customers. Which option you choose is all about your organizations' marketing priorities and the ideal ways of interacting with potential customers. Your team's availability and capacity for responding to prospect activity or feedback is a huge consideration.
So is knowing how to get the most out of your CRM or marketing automation software with the least amount of overhead. We can help you see how to optimize Dynamics 365 Sales and Dynamics 365 Marketing for a small or medium sales team that needs to prioritize agile, efficient, cost-effective solutions for sales and marketing support. That is exactly who we are at Cobalt!
Schedule a Dynamics 365 Marketing Demo
Let us show you more of what the inbound and real time marketing possibilities in D365 Marketing can do for your team. Schedule a product showcase with my team and we will highlight the specific value for your organization.