Your CRM integration with other critical software and applications in your tech stack is a huge factor in choosing a new CRM solution. Are you shopping for a new customer relationship management system? Do you just hate your current CRM? This post details some of our favorite free, pre-built CRM integrations that have helped our sales team.
Microsoft Dynamics 365 is a fantastic CRM choice for many businesses that need more than the free CRMs like HubSpot or other entry-level systems provide. And part of our team's mission at Cobalt is to help our customers get the most out of Dynamics 365. Let's look at how a simple CRM integration could elevate what your system is doing for your organization to drive productivity and strategic growth.
Unified CRM Integration with Outlook, Excel, and Microsoft Office 365
Picture this: you're already a CRM hero, juggling customer interactions, emails, and schedules like a pro. But you find a way to make your superpowers even more potent! That's what you get with the seamless integration of Microsoft Office 365 with Dynamics 365 CRM. The fact that your staff members already have some expertise and familiarity with these applications makes this CRM integration so much more valuable.
Gone are the days of tedious manual data entry. With this integration, you can synchronize emails, contacts, and calendars between your CRM system and Microsoft Outlook. It's a match made in productivity heaven. Here's a short video on how to track an email from Outlook.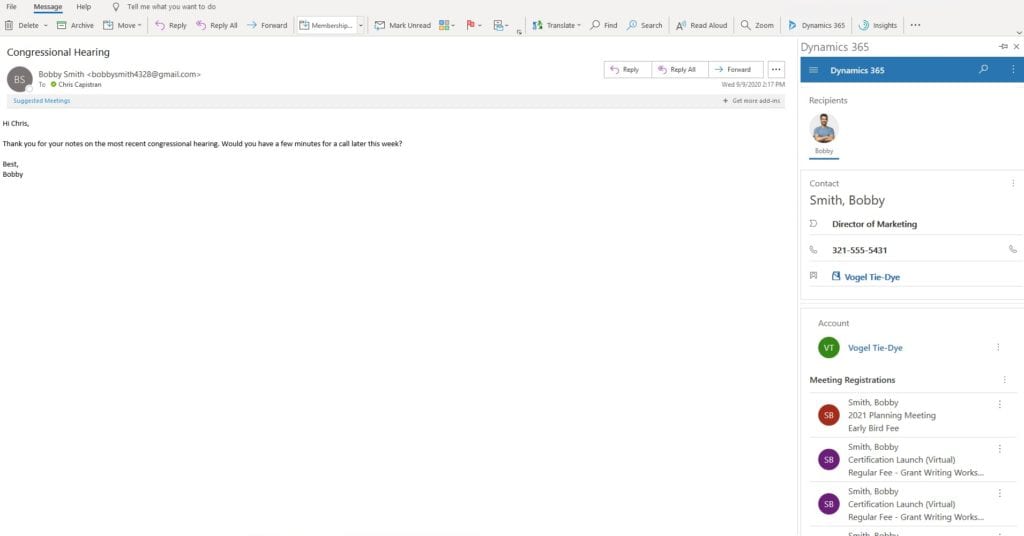 Say goodbye to the hassle of duplicating information or missing important updates. Your CRM and communication platforms will be in perfect sync, allowing you to effortlessly manage customer interactions with real-time finesse.
Accessing and working with Office 365 applications directly within Dynamics 365 CRM offers a unified user experience. That will make you more productive with less effort. Need to create a Word document? Piece of cake. Generating those captivating Excel reports? Easy peasy. Time to deliver that game-changing PowerPoint presentation? You can do it all without leaving your CRM.
And that might be one of the biggest values of this integration. It gives your team more reasons to work within your CRM because it's making their life easier.
We've seen how much it's given us better quality collaboration when we can seamlessly share data and insights with our teammates. No more hopping between applications or wasting precious time. This has become an absolutely essential CRM integration for keeping everyone in our organization on the same page.
LinkedIn Sales Navigator: A CRM Integration to Leverage Social Insights
Social media platforms have proven to be powerful tools for networking, lead generation, and lead qualification at Cobalt. That's especially true with LinkedIn. The seamless CRM integration of Dynamics 365 and LinkedIn Sales Navigator gives your social selling game a major boost that no other CRM can deliver!
This embedded experience gives you direct access to the treasure trove of LinkedIn profile information and activity of your leads and prospects, all from within your CRM. With invaluable insights like their professional background, connections, and their engagement on LinkedIn, you have the intel you need to personalize your outreach, forge meaningful connections, and nurture relationships based on a deep understanding of their unique interests and preferences.
Here's a quick glimpse of how our association customers experience the LinkedIn and Dynamics 365 integration.
This CRM integration isn't just about insights though; capturing leads is an equally important part of social-selling. With a simple click, you can import LinkedIn InMail messages and connection requests directly into Dynamics 365 CRM. No more missed opportunities or lost prospect information. Seamlessly capture those valuable leads from LinkedIn and ensure they're right where they belong.
Read more about the integration with LinkedIn in our blog, LinkedIn Sales Navigator & Dynamics 365 Sales Integration.
SharePoint: Collaborative Document Management
We keep seeing just how much efficient document management and collaboration are essential for smooth business operations. Dynamics 365 CRM integrates seamlessly with SharePoint, Microsoft's collaborative platform for document management and team collaboration.
The CRM integration with SharePoint allows users to store and share documents within the CRM system. It gives you a centralized repository for important files. Teams can collaborate on documents, track version history, and ensure that everyone has access to the most up-to-date information.
Additionally, SharePoint's advanced search capabilities are leveraged within Dynamics 365 CRM. Users quickly locate documents based on keywords, metadata, or specific criteria. Efficient information retrieval saves time and effort when searching for critical documents associated with customer records.
Users can also embed SharePoint document libraries directly within CRM forms. Your relevant files are easily accessible during customer interactions. This eliminates the need to switch between multiple applications. And that equals enhanced productivity with a more seamless user experience.
Adobe Sign: Streamlining Document Signing
The integration of Dynamics 365 CRM with Adobe Sign, a leading electronic signature solution, absolutely streamlines document signing processes. Adobe Sign allows us to send, sign, and track contracts and agreements directly within Dynamics 365 CRM.
With this CRM integration, users initiate document signing workflows directly from the CRM system. No need for manual printing, scanning, and mailing of physical documents. Users can send documents for signature to clients or internal stakeholders and track the status of each document within Dynamics 365 CRM.
Automating the document signing process has significantly reduced our turnaround time. It will help improve your operational efficiency and enhance your customer experience. Adobe Sign provides advanced security features to protect the integrity and authenticity of electronically signed documents.
With the integration of Adobe Sign and Dynamics 365 CRM, organizations can transform their document management processes. If you reduce or eliminate paper-based inefficiencies, most customers and stakeholders prefer this seamless, secure signing experience.
Dynamics 365 Sales Insights: AI-Powered Sales Analytics in 1 CRM Integration
Dynamics 365 Sales Insights is an AI-powered sales analytics and forecasting tool provided by Microsoft. It integrates with Dynamics 365 CRM to provide sales professionals with predictive insights, sales performance analytics, and sales forecasting capabilities.
When you connect Dynamics 365 Sales Insights with Dynamics 365 CRM, your sales team will gain a deeper understanding of their sales pipeline. Customer behavior instantly becomes clearer. Reliable revenue forecasts are much easier to generate. We use the AI capabilities of Sales Insights analyze historical data and identify useful patterns and trends. This provides our team with actionable insights that drive our evolving sales strategies.
Sales Insights offers features such as predictive lead and opportunity scoring. AI algorithms help us prioritize leads and opportunities based on their likelihood to convert into sales. This keeps our sales team focused on high-potential prospects.
You'll also love how Sales Insights provides sales performance analytics. Sales managers use these to track key metrics, measure individual and team performance, and identify areas for improvement. By leveraging these analytics, organizations can make data-driven decisions instead of guessing. Over time, you really can optimize your sales processes to hit your revenue targets more consistently.
The sales forecasting capabilities of Dynamics 365 Sales Insights enable organizations to predict future sales revenue accurately. The AI models analyze historical data, market trends, and other relevant factors. What you get are sales forecasts that clarify your plans for allocating resources. Set more realistic sales targets and realign your sales strategies accordingly.
As AI technology continues to rapidly change the CRM landscape, SMBs like Cobalt can take advantage of the enterprise-level tools and functionality. That's because D365 comes at price point made for businesses our size. All together? This is one of the CRM integrations we've found that truly has exponential value for our team.
Power Platform: Expanding CRM Capabilities
Dynamics 365 CRM is part of the Microsoft Power Platform. This comprehensive suite of tools is designed to empower organizations to build custom applications, create integrations, automate workflows, analyze data, and generate interactive visualizations.
The Power Platform includes Power Apps, Power BI, and Power Automate. All of these seamlessly integrate with Dynamics 365 CRM, amplifying its functionality and adaptability.
BTW, Flows just became even easier to create. Check out our recent blog on using natural language inputs to generate your Flow template!
Connect with Cobalt to Explore Other CRM Integration Possibilities
We covered our top picks, but there are HUNDREDS of applications that can be integrated with D365! What's really awesome is how many of these integrations can be deployed in your system without an additional fee from Microsoft.
In today's business landscape, integration is a key to harnessing the full potential of your CRM system. Dynamics 365 CRM offers a range of powerful CRM integrations that can transform the way you engage with customers, collaborate with teams, and drive business growth.
If you're considering a new CRM, or want to see how to get more out of Dynamics 365, let's connect for a quick intro call. We can dig in and talk about a CRM integration wish list for your team that supports your current goals.