Microsoft Copilot has really impressed our team at Cobalt — and we've been Microsoft experts and Gold-Certified partners for many years! But this leap forward in AI technology truly does revolutionize the Dynamics 365 experience. Let me show you how to use Microsoft Copilot to enhance productivity and streamline operations.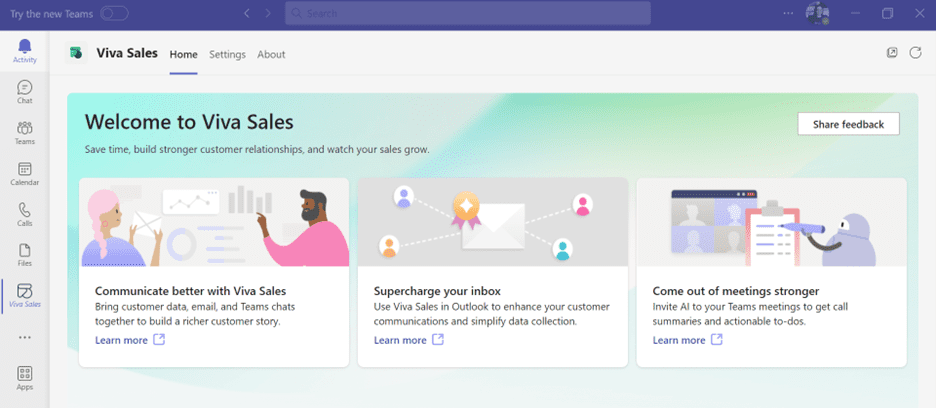 What is Microsoft Copilot?
Microsoft Copilot is an AI-powered virtual assistant that seamlessly integrates into Dynamics 365 CRM. It leverages the power of natural language processing (NLP) and machine learning to provide users with intelligent suggestions, real-time insights, and personalized recommendations. Designed to support sales, service, and marketing professionals, Copilot empowers users across your organization by streamlining tasks, enhancing decision-making capabilities, and reducing manual effort.
How to Use Microsoft Copilot for Sales Emails
AI technology has made significant advancements for sales teams like ours, and revolutionized the way sellers interact with their customers. Microsoft AI Copilot for Dynamics 365 is a powerful tool that can generate content suggestions for sales emails based on customer inquiries or requests.
Imagine a scenario where a seller receives an email from a potential customer asking for a proposal or more information.
Microsoft AI Copilot for Dynamics 365 provides relevant content for a response, and the seller can simply select the appropriate option(s). Their reply is auto-drafted for review and complete with relevant data specific to the recipient, such as pricing for products, discounts promotions, and deadlines. This saves the seller valuable time and effort, eliminating the need to search for information and manually composing every email.
Microsoft AI Copilot Learns Your Needs Over Time
What makes this even more exciting is that Copilot for Dynamics 365 is continually evolving and introducing enhancements.
For example, sellers can now create customizable emails that propose meeting times with customers. The tool takes into account the seller's availability based on their Outlook calendar and suggests a suitable meeting date and time.
This feature streamlines the process of scheduling meetings, eliminating the back-and-forth communication typically involved in finding a mutually convenient time.
To ensure the generated content meets the seller's expectations, a new feedback mechanism has been implemented. Sellers can rate the AI-generated content with a thumbs up or thumbs down, providing valuable input that helps refine and improve future replies.
This feedback loop ensures that Microsoft Copilot for Dynamics 365 continuously learns and adapts to the seller's preferences and requirements, delivering more accurate and relevant content over time.
Sellers also have the flexibility to refine the generated results by providing a new prompt. This allows them to create an updated response that builds on the previously suggested draft and incorporates new context.
By leveraging the power of Microsoft's industry-leading AI, sellers can personalize their responses further and tailor them to specific customer needs or preferences.
Efficiency, Brand Enhancement, and More Focused Sales Efforts
We're finding substantial benefits of using Microsoft AI Copilot everywhere we turn in Dynamics 365.
By auto-suggesting customizable content, sellers can significantly reduce the time spent composing emails and searching for sales data from various sources, such as colleagues or databases.
This efficiency allows sellers to focus on building relationships with customers, nurturing leads, and closing deals.
Additionally, the accuracy and consistency of the content generated by Microsoft AI Copilot helps maintain a professional image and enhance customer satisfaction.
How Does Microsoft Copilot Help Sales Teams?
We're finding that Microsoft Copilot is great for automating tasks and providing intelligent insights that are revolutionizing the user experience of a tool we know inside out: Dynamics 365 CRM.
By embracing tools like Microsoft AI Copilot for Dynamics 365, sales professionals can optimize workflows and drive better outcomes in today's competitive sales landscape.
Microsoft Copilot represents a significant advancement in enhancing the user experience for Dynamics 365 CRM. Its intelligent suggestions, personalized recommendations, and predictive analytics are empowering our team to work more efficiently, make data-driven decisions, and deliver exceptional customer experiences.
As sales professionals, Microsoft AI Copilot for Dynamics 365 brings huge value to so many facets of our work. Here's a summary of how it's transforming the way our team engages with customers.
Creating and updating CRM data systematically
Producing meeting summaries
Streamlining the email composition process
Simplifying responses to proposal requests
Making meeting scheduling much easier
Leveraging AI to generate content suggestions for sales emails
Improving sales outreach personalization
Want to see other ways that Dynamics 365, Dynamics 365 Sales, Dynamics 365 Marketing, and The Power Platform help with core sales and marketing challenges? Check out Cobalt's growing library of resources on our YouTube channel!
How to Get Started with Microsoft AI Copilot
For the first half of 2023, this feature was only available for preview to those who signed up for the waitlist. Microsoft announced that AI Copilot will be publicly available across all US regions in June 2023, so you may have access now! When you receive access to Copilot, it should be enabled in your tenant by default. There might be a few extra steps though – we needed to ensure that our Office 365 tenant and Teams tenant had the Viva Sales add-in downloaded.
Once you've added that, you're off and running! Just click the "Viva Sales" button in Outlook or click the app in Teams. Connect to your Dynamics 365 instance. And you're ready to start exploring how you can create email replies with AI, read a summary of the email thread, create records in D365 and more!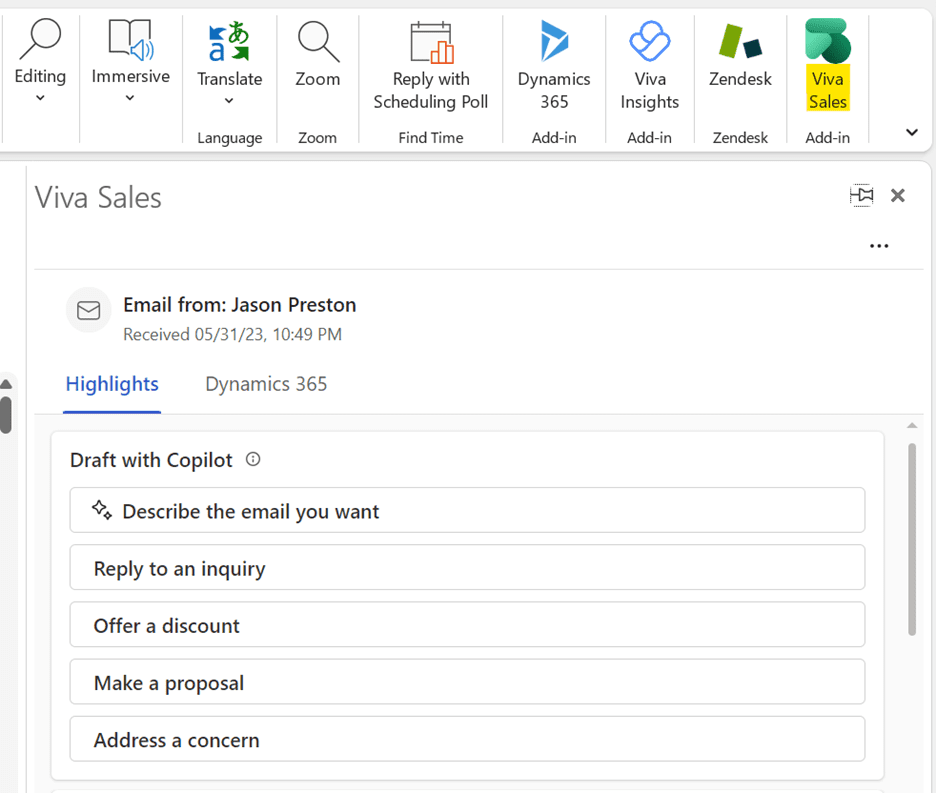 Streamlining Proposal Requests
Let's explore some real-life examples to illustrate how Microsoft Copilot for Dynamics 365 improves sales efficiency and effectiveness!
Imagine a sales team member working for a software company. A potential customer sends an email requesting a detailed proposal for a specific software solution.
Instead of spending hours manually crafting a proposal, the seller uses Copilot to generate a comprehensive and tailored response.
The AI tool analyzes the customer's request and combines it with relevant data from Microsoft Graph and the CRM system. The seller can then review and edit the generated proposal before sending it.
This significantly reduces the time and effort required to prepare a proposal. The prompt response only increases their chance of closing the deal with this prospect!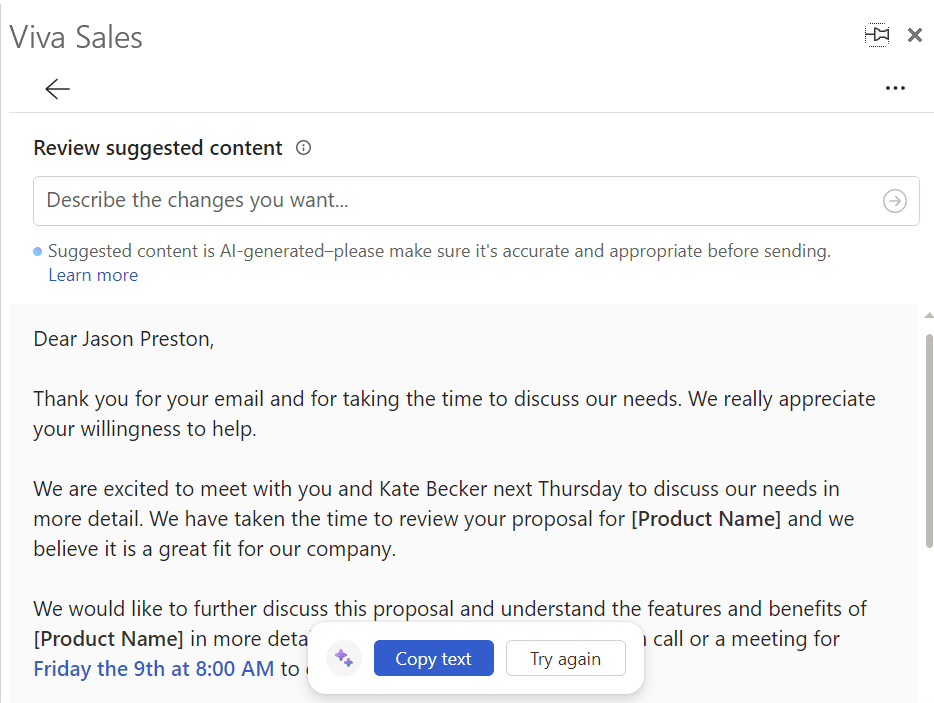 More Efficient Meeting Scheduling
In another scenario, a seller needs to schedule a meeting with a busy executive. Instead of exchanging multiple emails to find a suitable time slot, the seller uses Microsoft Copilot to generate an email proposing a meeting time.
The tool considers the seller's availability based on their Outlook calendar and suggests a few options. The seller can select the most convenient time and send the email with confidence, knowing that the proposed meeting slot aligns with their schedule.
This automation expedites the scheduling process, eliminates unnecessary back-and-forth communication, and improves the overall customer experience.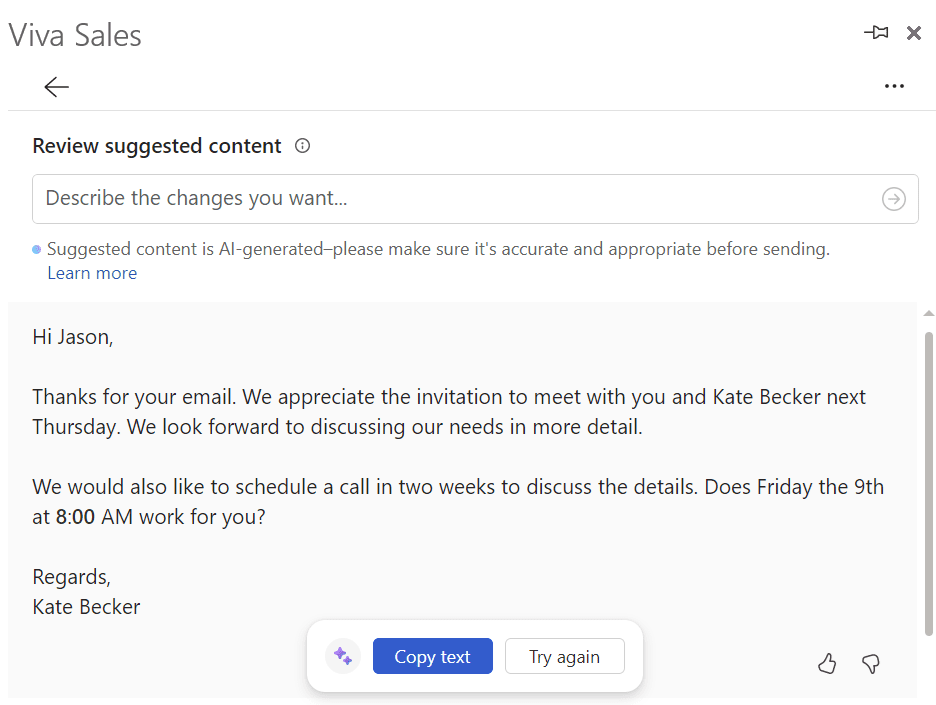 Enhanced Personalization in Sales Outreach
Microsoft AI Copilot also enables sellers to personalize their communication with customers. For instance, let's say a seller receives an email from a long-time customer expressing interest in a new product launch.
Using Copilot, the seller can generate a response that not only acknowledges the customer's interest but also includes personalized recommendations based on their purchase history and preferences.
This level of personalization strengthens the customer relationship, demonstrates attentiveness, and increases the likelihood of upselling or cross-selling opportunities.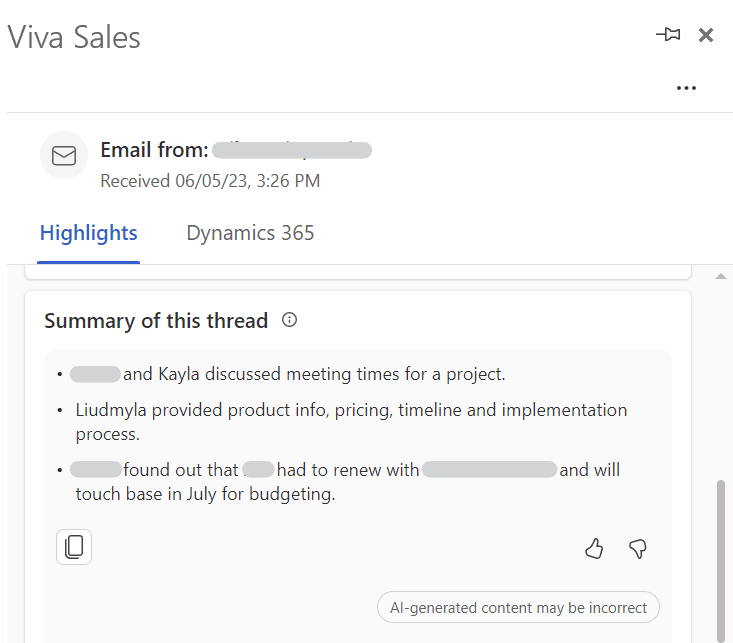 Other Benefits for Dynamics 365 Users
The integration of Microsoft Copilot into Dynamics 365 CRM marks a significant milestone in the evolution of customer relationship management.
Leveraging AI's power, Copilot empowers sales, service, and marketing professionals to maximize productivity, make informed decisions, and engage customers on a personalized level.
The intelligent suggestions, predictive analytics, and continuous learning streamline workflows, reduce manual effort, and drive better outcomes.
Furthermore, Microsoft's commitment to data security and privacy ensures that users can trust Copilot to handle their sensitive information securely. With data encryption and adherence to privacy standards, Microsoft provides a reliable and secure environment for users to leverage Copilot's power without compromising data.
Microsoft Copilot is a game-changer for the user experience of Dynamics 365 CRM. It has the potential to transform how organizations manage customer relationships, drive revenue growth, and deliver exceptional customer experiences. It's just another way that Dynamics 365 powers success for SMBs.
Our team at Cobalt loves to showcase exactly how we're using Dynamics 365, D365 Sales, D365 Marketing, The Power Platform, and new tools like Microsoft Copilot! Schedule a quick introduction call with us and let's talk about sticking points in your business processes or sales efforts. Microsoft Copilot, Dynamics 365, and Cobalt's deep CRM expertise can help.