Choosing the best association management software is always a complex project with many stakeholders. Our 2023 AMS Buying Guide is built for teams that want to streamline the process of comparing different AMS systems. Our guide is an in-depth walkthrough of the pitfalls, considerations, and questions you should be asking. It covers all three phases of the buying process: assessment, research, and selection.
You can read about each phase in detail in our three-part blog post series (descriptions below). Or, download the complete guide as a PDF you can share with your team. It's a useful reference, no matter what stage of the buying process you're in today.
Share it with your key AMS software stakeholders. Use it while you're assessing your team's needs and talking with AMS vendors. It will help you understand and navigate the entire process with confidence. You'll end up with the association management software your staff and members truly need.
Download a complete copy of this 2023 AMS Buying Guide.
What's In This Guide for You
Associations have been one of the cornerstones of Cobalt's partnerships since 1996. We serve our association neighbors in Washington, D.C. and around the country. We have deep, longstanding relationships in the industry.
We know the classic challenges membership organizations face.
We've walked through the recent pandemic-era struggles with our association partners.
And, we're deeply invested in solving the evolving needs of tomorrow's associations.
We've taken the best of what we know about assessing, researching, and assessing software for association management and packed it into a practical, easy-to-understand, no-filler guide.
You'll find advice in here that nobody else shares. We're willing to say what others won't. We also do the hard stuff in an AMS implementation that most teams don't know how to do. It's who we are at Cobalt.
What's in This Guide for Us
Yes, we've packed our best advice for associations into this guide, but what's in it for us?
We want to connect with prospective association partners who are the best fit for Cobalt Engagement Dynamics.
There's association management software that will fit any size or type of association. But there's no one-size-fits-all solution. We know that we're not the perfect fit for everyone!
This guide is also a chance for readers to learn a little about Cobalt and how we operate. By the end of it, you'll have a much clearer sense of how to navigate the AMS system buying process, no matter what kind of system you need.
You'll also get a clear sense of whether we could be a good fit — or where to focus your search elsewhere. This just helps us all and keeps our sales team focused, happy, and engaged.
About the Author
Chris Capistran has provided strategic consulting in the association and certification industries for 25+ years. He was Cobalt's first association customer in 1997. Chris spent 10 years managing AMS and CRM implementations, and currently leads our AMS product innovation.
What's In Our Association Management Software Buying Guide
Phase 1: Assessing Your Association Management Software Needs
Should you hire an AMS consultant?
Designate an internal point person for your AMS search
Build an AMS Task Force
4 key factors to remember in your AMS Task Force selection process
Assess your staff's association management software needs
Expect these roadblocks with your association staff
Assess your members' association management software needs
Set a tentative budget for your new AMS implementation
How much does an AMS implementation cost?
Questions to consider in the assessment phase of your AMS search
Read more about assessing your current AMS needs
Phase 2: Researching Current Association Management Software Options
Why you should wait to send vendors an RFP at this stage
Invest in due diligence for your association management software search
What features should you prioritize in your AMS research?
11 of the best association management software providers in 2023
How AMS Vendors Quote Implementation Projects
How Much Customization Do You Need?
AMS Vendor Support and Culture Fit
This Year's Top AMS Providers
Best AMS Systems for Smaller Associations
Other AMS Options to Consider
Request an overview demo from your top AMS vendor prospects
What do expect from an ideal AMS overview demo
What to ask AMS Vendors
Read more about researching your AMS options
Phase 3: Selecting the Best Association Management Software
What are the biggest differences in AMS solutions in 2023?
Mature AMS Cloud Platforms
Consolidation in the AMS Market
Send RFPs to your remaining AMS vendor prospects
Request customized association management software demos
Check references for your strongest AMS partner prospect
Questions to ask references of your potential AMS partner
Present your final candidate(s) to your AMS stakeholders
Read more about how to select the best AMS for your association
After You've Chosen an Association Management Software Partner
Your roadmap to implementing a new AMS system
Read more about what to expect in the AMS implementation phase

Phase 1: Assessing Association Management Software Needs
The amount of effort your team invests in assessing the true needs of your staff and members will have a huge impact on the outcome of this project. Unfortunately, this is the phase that many teams rush through. That's especially true if your current association management software is badly out of date and you've been putting off the search for a new one.
One of the best things you can do at this stage is build a hand-picked AMS Task Force to carry this project out successfully. The leader of that task force is absolutely critical. In the first section of our guide, we make specific recommendations that have helped teams we've worked with in the past.
You'll also need a plan that anticipates pushback for a new AMS from some of your staff. It's just inevitable that someone on your team won't be excited about a change like this. We've got strategies for keeping those folks engaged and more enthusiastic about your new software.
The assessment phase is a great time to think about your budget for a new AMS system. We cover the factors that will make the biggest difference in the final price tag for this project. We also break down an average AMS implementation cost.
In the Assessment section of our 2023 Association Management Software Buying Guide, we cover:
AMS consultants and the RFP process
How to build the ideal AMS Task Force team for this project
What to expect as you assess your staff's software for association management needs
Ways to connect with your association members for critical input early in this project
Specific questions for assessing the needs of your staff, members, and task force candidates
Read the first section of our 2023 AMS Buying Guide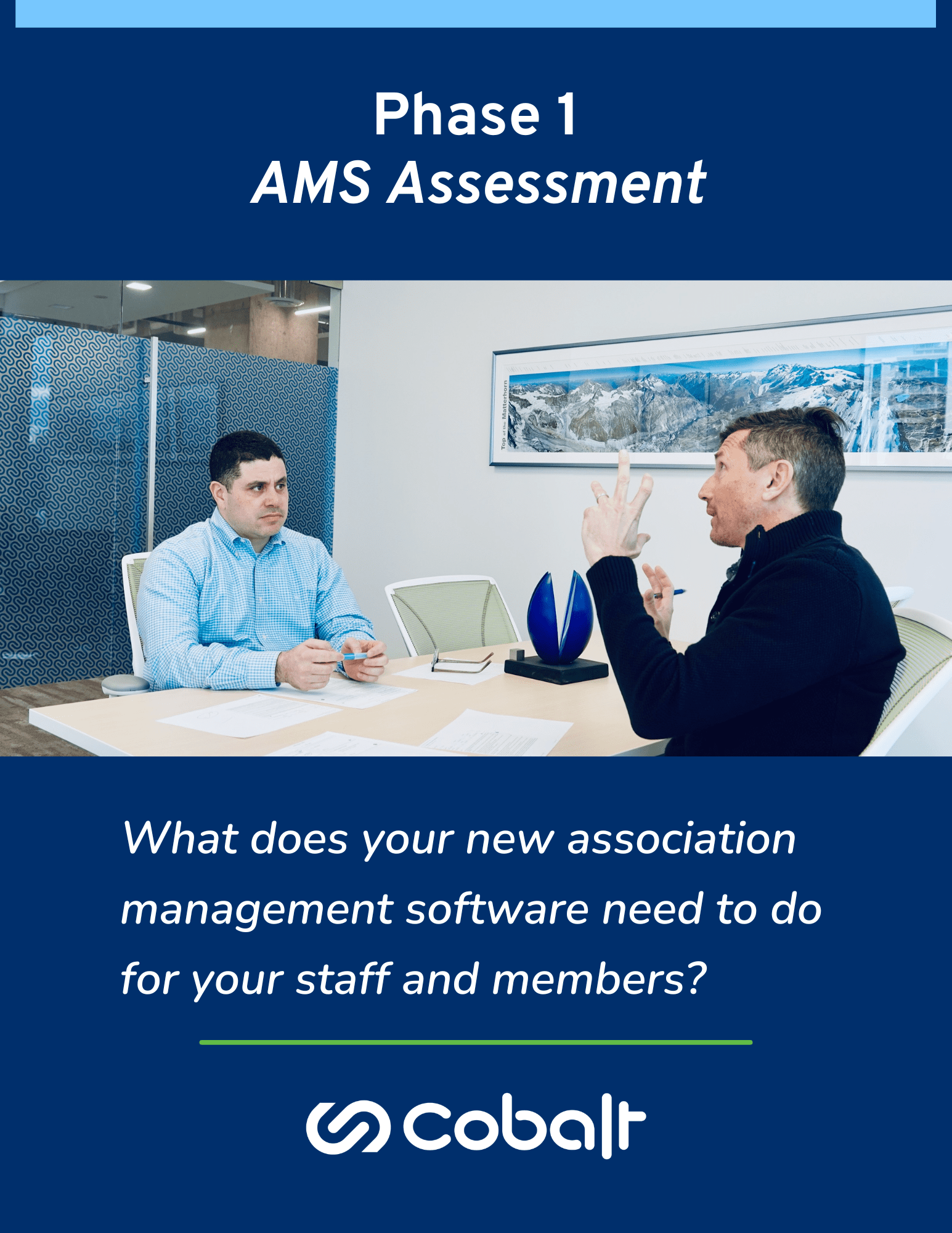 Phase 2: Researching Current Association Management Software Options
Building an AMS Task Force and completing an assessment of your staff and member needs comes first. You'll be better equipped to dive into research about current member management solutions. The big goal in the research phase is to quickly eliminate AMS providers. All the ones who don't meet the essential criteria you've surfaced in your assessments need to go.
Too many associations make the mistake of sending exhaustive RFPs too early in the process. In this section of our buying guide, we'll start to unpack why that limits your options. We show how it creates an unnecessary burden on your team—and when it's better to send those RFPs instead.
Every association management software vendor quotes their products differently. This can lead to a lot of confusion for associations. It can be hard to compare apples to apples but that's how you'll know what you're really getting for your money. We've got the essential questions you should be asking vendors at this stage so you won't be caught off guard later.
We also provide a list of some of the top AMS providers in 2023. You'll find notes about who might be a good fit for your association.
This is the phase where it's best to request those initial, high-level overview demos from the early frontrunners in your AMS search. But what should you be looking for in those demos? This section of our buying guide has you covered.
Read the second section of our 2023 AMS Buying Guide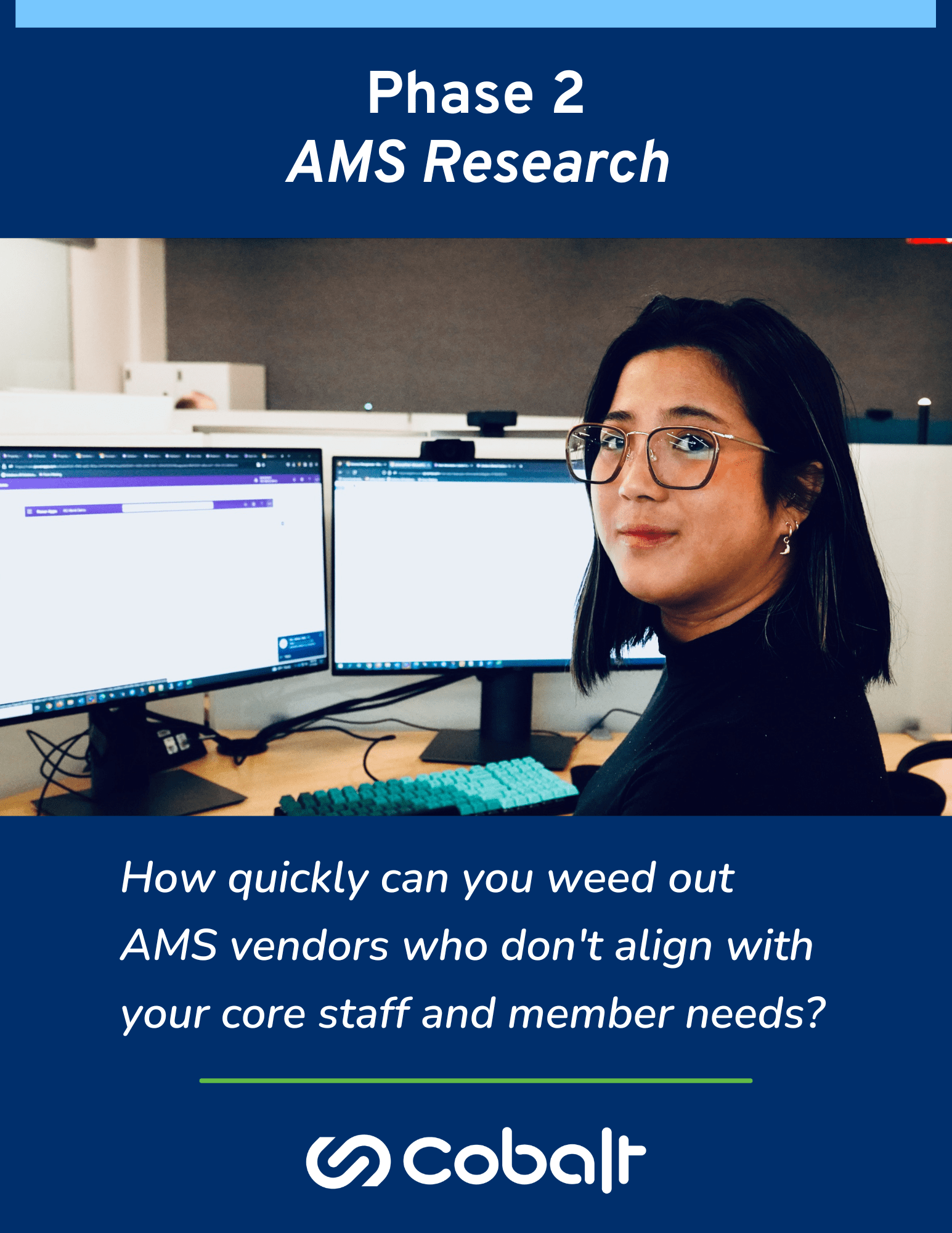 Phase 3: Selecting the Best Association Management Software
The selection phase is where some of the toughest questions need to be asked. And your shortlist of AMS vendors needs to have good answers. At this point, you've eliminated most of the association management software options on the market. They don't meet your initial assessment needs. It's time to find the very best fit for your association staff and members.
One of the biggest keys to success in the selection phase is asking for the right kind of specialized demo. This will sift out the folks who don't really have the experience or software offering that's going to thrill your stakeholders. Just like the other sections, this part of our buying guide has some pointed, expert-level questions you can ask.
We've also included two new sections in our 2023 guide. We dive into some of the most important trends in the association management software industry this year. No matter what kind of association you are, or what you'll ultimately need in an AMS system, these are a must-read before you make a final decision.
Lastly, we tackle a step that it's very easy to fall down on at the tail end of a long and intense process. How will you present your final selection to your staff, members, and key stakeholders? The way you handle this part of the project will do a lot to help or hurt the AMS implementation project that follows. As usual, we've got our best practices packed into this part of the guide.
Read the final section of our 2023 AMS Buying Guide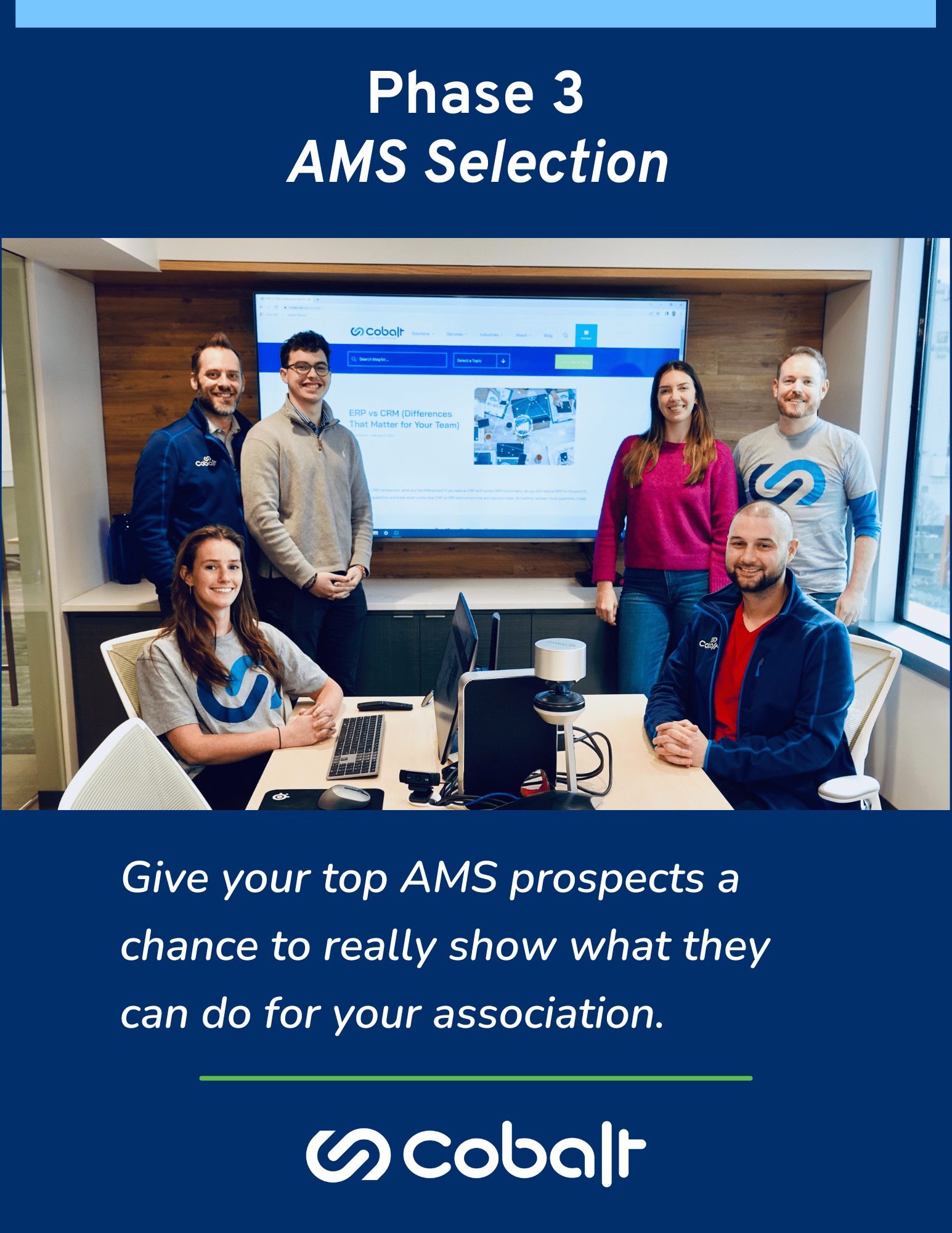 ---