The LinkedIn Sales Navigator Dynamics 365 Sales integration is a very smart priority for sales efforts.
Why?
Well, what is the first thing you do when you get a new job? Update your LinkedIn profile (duh—you deserve to brag). Turns out, this is what most people do, even occasional LinkedIn users. And since these updates come directly from the source, that means LinkedIn has the biggest, most-up to date professional database in the universe.
Accurate professional job activity information is invaluable to B2B sales teams. There are several sales enablement tools out there, but LinkedIn's Sales Navigator tool has a major advantage over the other tools—it leverages LinkedIn's user-provided data.
When sales teams use LinkedIn Sales Navigator to uncover new leads, and then use an enterprise CRM like Dynamics 365 Sales to manage those leads, they are unstoppable. Even better, you can use LinkedIn Sales Navigator to ensure lead information in your CRM stays up-to-date. This is especially important for those longer B2B sales cycles.
In this post, I've outlined three actionable ways to make the most out of a LinkedIn Sales Navigator Dynamics 365 integration. Take a look, implement my advice, and close more deals this year!
#1: Use LinkedIn Sales Navigator & Dynamics 365 Sales to Uncover New Leads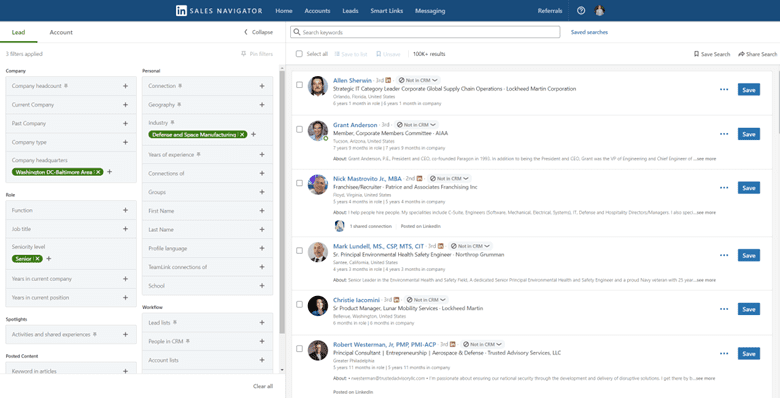 Finding the right people to reach out to can be the hardest part of a business development representative's job. Luckily, LinkedIn Sales Navigator comes with an extremely robust search tool.
Sales team members can search for people and companies based on a wide variety of criteria. It's easy to search by industry, geography, years of experience, and more.
After you integrate LinkedIn Sales Navigator and Dynamics 365 Sales, the search results will show you if a contact or account is in D365 Sales. If they aren't in your D365 instance, reps can easily export the lead to CRM by clicking the 'Create record' button:

This will automatically create the lead record in D365 and map all the relevant information like name, company, etc. from LinkedIn to the new record. Your business development reps will have a newly created lead with all of the relevant information in just a few, intuitive clicks.
#2: Eliminate Inefficiencies with a LinkedIn Sales Navigator Dynamics 365 Integration
Our sales team loves that you can view LinkedIn information directly inside D365 Sales.
Even if you have an enterprise CRM and a LinkedIn Sales Navigator license, they are two still different systems. And that means they need to be integrated so you aren't constantly switching between the two tools.
Once you've set up LinkedIn Sales Navigator for Dynamics 365 Sales, your sales team will see true efficiency gains. Our team at Cobalt certainly did.
Here's a video we made that shows exactly how your sales reps can use D365 Sales Sequences to automate sales outreach.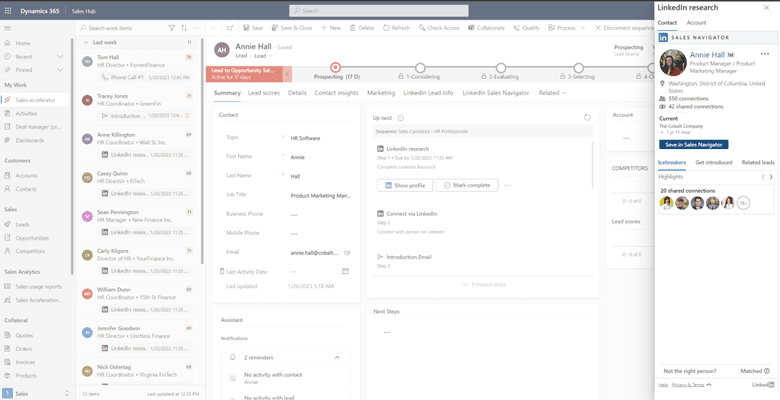 D365's sequences also include outreach steps from third-party systems (hey, hey LinkedIn Sales Navigator!).
Sales managers can set up sequence steps for LinkedIn research, LinkedIn connection requests, and LinkedIn inMail. All of that will allow your sales team members to complete these actions without ever leaving D365.
You can also view LinkedIn profile information and LinkedIn company information right on the lead record.
If a lead has gone cold, you can also use the LinkedIn Account Profile section to see recent company posts. Your sales team can use that update to restart the conversation.
Data Sync
If being able to view LinkedIn information within D365 Sales isn't enough, you can take it a step further. A LinkedIn Sales Navigator Dynamics 365 integration will enable a data sync between the two systems.
This will allow information from LinkedIn to sync to the corresponding lead or contact in CRM. The advantage here is that it opens up another option for how your sales team can work.
If they would rather do their LinkedIn outreach in LinkedIn Sales Navigator, no problem. As they do that, all of their messages will be tracked back to D365. Managers can easily report on all outreach activities without having to check two different systems.
Data Validation
B2B sales teams like ours at Cobalt are usually trying to connect with a specific person at a company. If that person leaves, the sales team member needs to know as soon as possible so they can update their outreach strategy.
If your company enables data validation between LinkedIn Sales Navigator and D365 Sales, a new 'Not at Company Flag' field is created on the contact record. Every 24 hours, D365 Sales looks in LinkedIn to verify the contact is still at the company associated with them in CRM. If the contact is no longer at the organization, CRM will automatically flip that field to 'Not at Company.'
Sales teams can easily see all contacts that are no longer at the company through the 'All Contacts Not at Company' view. They can also see every contact related to open opportunities that are no longer at the company. Just use the 'All Opportunities at Risk – Contact Left' opportunity view.
This way, sales teams can quickly take action when a key contact has left an organization during a high-stakes deal.
#3: Report on LinkedIn Activity with Power BI and Dynamics 365 Sales
Power BI, Microsoft's business intelligence reporting tool, can connect to LinkedIn Sales Navigator. That's a huge win for your team. It unlocks the ability to report on usage, searches, InMail, and SSI (social selling index).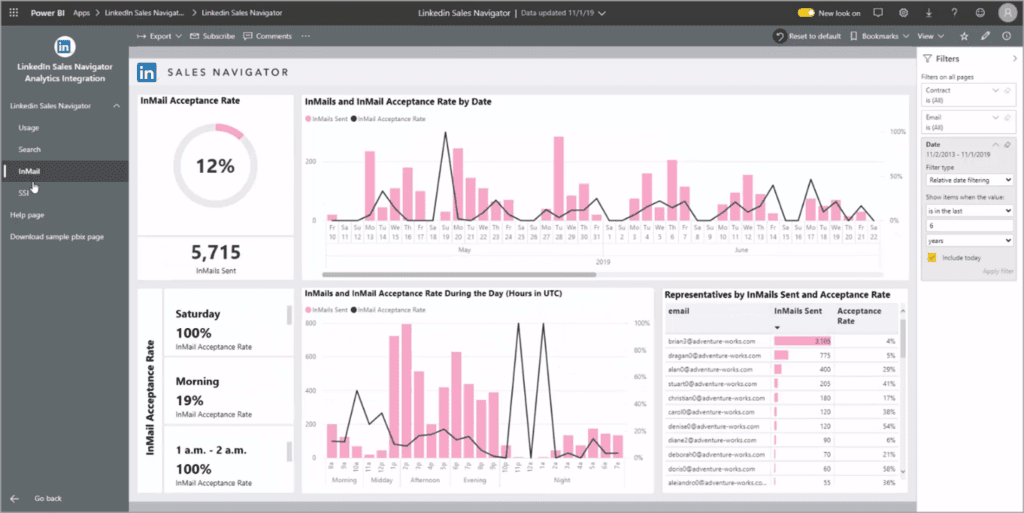 You don't even have to be a Power BI wizard to take advantage of this integration. Organizations can install the LinkedIn Sales Navigator template app from AppSource. It comes pre-built with four different reports to help managers analyze LinkedIn Sales Navigator data.
Once you've installed the app, embed those Power BI dashboards directly into your D365 Sales instance. BDRs, AEs, Sales Directors, and every decision maker stakeholder in your organization will love seeing all of your outreach data analysis in one central location.
Let's Unlock Better Opportunities for Your Sales Team
We know exactly how small, medium, and growing sales teams can get the most out of Dynamics 365 Sales. It's what our team uses day in and day out at Cobalt. We don't just sell better CRM solutions. We help teams shaped like ours learn how to take advantage of all our sales strategies, successes, and lessons learned.
I hope you see the clear value in pursuing a LinkedIn Sales Navigator Dynamics 365 integration. If you have questions about Microsoft Dynamics 365 Sales or Power BI, let's connect. We'd love to show you exactly what these tools can help your sales team achieve.