What is an AMS system? Wait — what does AMS even stand for? Is the M for membership or management? Is the S for system or software? If we are comparing AMS vs CRM vs ERP systems, what are the differences? And most importantly: which one does your association need? Even career association executives sometimes have trouble answering these questions because the AMS CRM line is blurrier than ever.
Cobalt has been focused on the association industry since 1996 and we still hear the debate over whether associations are better off with a CRM system or a traditional AMS system. In this article, we have boiled down two things:
AMS vs CRM vs ERP Definitions
Let's start with clear definitions of the most relevant terms.
What is an AMS system?
An association management system (AMS) is software designed to run an association by providing functionality for processing membership applications and collecting dues, running events, soliciting donations, and managing committees, chapters, etc. AMS is also sometimes used to refer to "association management software" or even "association management solution." These systems also typically include some level of accounting/bookkeeping functionality. Some AMS examples include Cobalt, WildApricot, MemberClicks, Aptify, and iMis.
What is a CRM system?
Customer resource management (CRM) software is designed to manage customer relationships by primarily providing functionality for salesforce automation, customer service, and marketing. These systems also provide a platform for building additional lines of business functions including all of those typically done by an AMS system. Some examples include Microsoft Dynamics 365, Salesforce, and SugarCRM.
What is an ERP System?
An enterprise resource planning (ERP) system is software that collects and manages data for day-to-day business processes with an emphasis on finances, commerce, supply chain, inventory, operations, manufacturing, human resources, and other logistical departments of a business. Modern ERP systems integrate with other specialized software to enable rapid logistical adjustments and forecast planning for core financial business processes. Some examples of ERP systems include Acumatica, Oracle, and SAP Business One.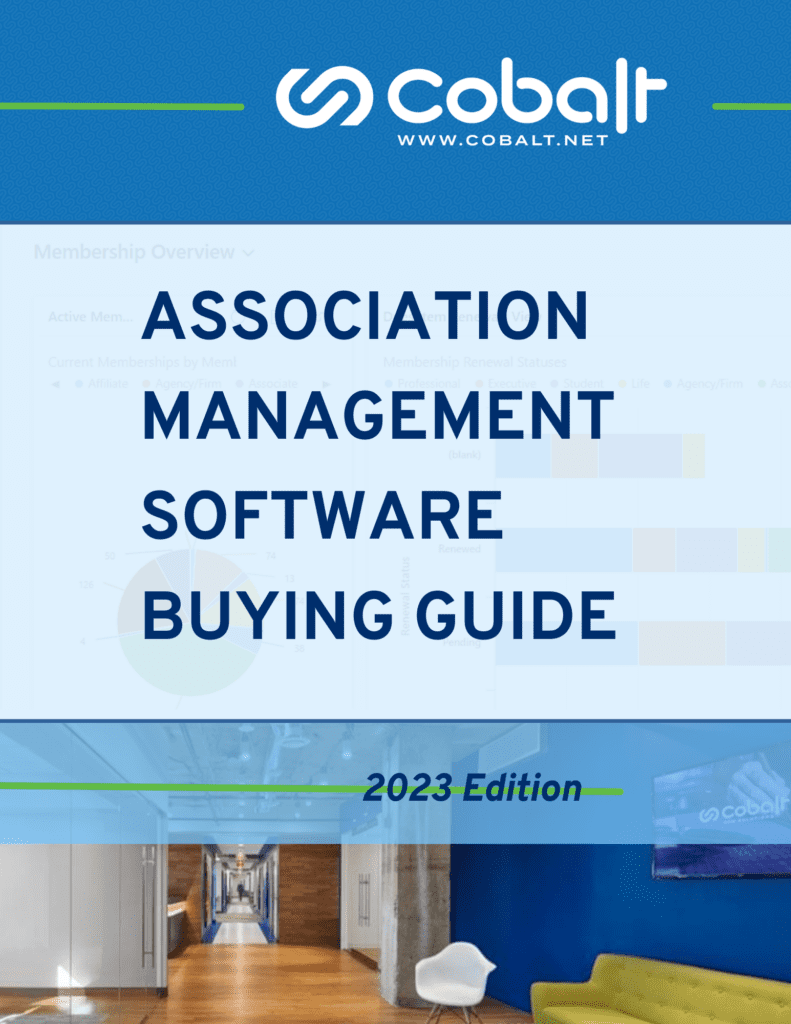 Our team at Cobalt has been involved in hundreds of conversations with associations trying to find the right-fit software for their needs.
If you are actively shopping for an AMS system or new CRM system take a copy of our 2023 Association Management Software Buying Guide with you today. We packed it with insider tips and best practices that will help you at every stage of the vetting and vendor selection process. Spending just a little time with that resource will help you generate some great questions to ask as you are making your decision.
Why Associations Need an AMS System or CRM Software
As the needs and expectations of your members change, your association's staff will always have a general sense of the general trends. But to truly thrive, keep ahead of renewals, reach new member prospects, and (favorably) impress your constituents, your team needs insight into the specifics of today's trends (and what is likely coming next). That means you need a great deal of data — relevant, reliable, secure data — and the tools to make sense of it. Collecting and interpreting data about your members and anyone who might have an impact in your industry are two of the essential functions of an AMS system or CRM platform.
When the right software is tailored to your association's business processes, goals, and core initiatives, your leadership team should be empowered with the insights and business intelligence for confident decision making. And every member of your staff should be empowered to do their work more efficiently, with significantly less frustration and errors as critical processes are automated or optimized.
How a CRM system creates better customer relationships is by implementing the CRM Cycle which has 3 steps: Configure, Collect & Analyze, and Capitalize.
AMS vs CRM: Key Differences
Since AMS systems and CRM systems are both built to store data, the key difference between the two is the core purpose and focus of the system.
Traditionally, the primary focus of an AMS is to store data for the purpose of running the association and performing the day-to-day functions of the organization. For example, if the primary functions of your association are membership and events, you want a system that is designed to efficiently manage the processes associated with membership applications and dues renewals as well as event setup and registrations.
CRM systems were originally designed to create better customer relationships with a focus on creating opportunities for organizations to grow. Statistics have shown that a 5% increase in customer (member) retention can increase a company's profitability by 75% and that 80% of your company's future revenue will come from just 20% of your existing customers. In our example above where the focus is on membership and events, a CRM system would allow you to gather and analyze data related to your members and conference attendees so you can better serve or market to them in the future.
Data Collection and Reporting
Most traditional AMS systems handle data collection and include basic reporting capabilities that are typically built around operational needs (e.g. conference registration attendee lists, badges, meal preferences, etc.). Step 2 in the CRM Cycle necessitates the ability to efficiently find and analyze the customer/constituent data that you have spent valuable staff time collecting. This is why CRM systems have robust search, business intelligence, and analytics functions built into them.
These search and export functions take many different forms based on a user's skills, preference, function, and role at the organization. For example, Microsoft Dynamics 365 includes basic search functions and views into your data to meet basic data needs, but it also includes the ability to easily construct more complex queries that can be exported to Excel for further analysis. Dynamics 365 also includes the ability to create robust dashboards for quick insights.
Better Business Intelligence for Decision Making
This leads into the final stage of the CRM Cycle: Capitalize. Now that you've collected and analyzed the data, it's time to take action and change some of your key processes or interactions with your members. This action can take many forms. If the data tells you that certain programs are more popular or profitable than others, you might shift resources to increase the reach of the more successful offerings. Maybe your data indicates that members in a certain geographic area are more engaged than others, prompting you to consider this when choosing the location of your next annual meeting. In this way you begin seeing the true power of the data you've collected.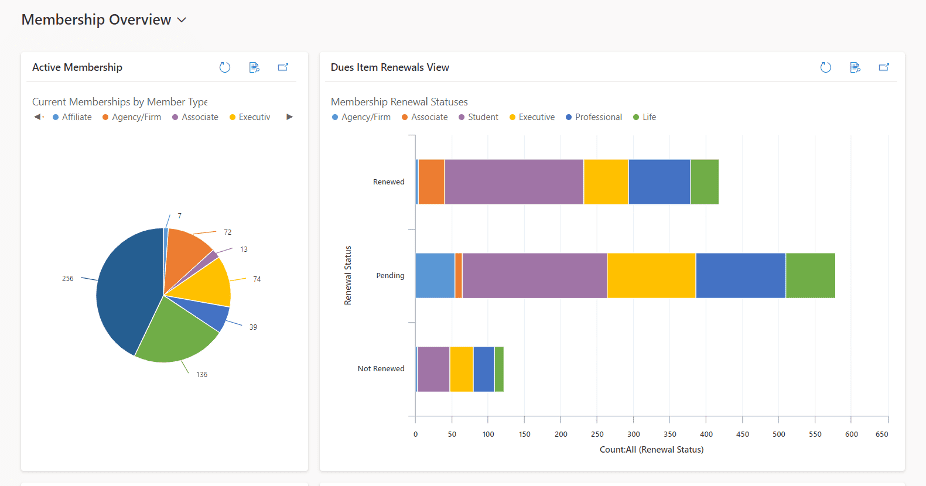 Is a CRM System or an AMS System a Better Fit for Your Association?
For the organizations that we talk to (which typically have a staff of 10 to 250) the ability for a CRM system to knock Step 2 out of the park when compared to most AMS systems is the key differentiator. You can collect the data with both systems, but you cannot get to Step 3 without being able to analyze your data. This is the primary reason we believe that CRM systems can be a better fit for most associations.
This is also the reason we built our AMS system, Cobalt's Engagement Dynamics, on top of the Microsoft Dynamics 365 CRM platform. The integration of our refined tools for associations with the strength of Dynamics 365 and the Power Platform as the driving engine for your core software stack is a tremendous asset for organizations.
AMS System Integrations with Other Systems and Software
Many associations are dealing with an AMS that isn't flexible enough. They are forced to create workarounds because their system won't integrate with a tool they need. It's too expensive and it takes too long to get their AMS vendor to do new, custom coding. But that often means more frustration, wasted efficiency, and lost or siloed data.
The open API design inside an AMS system like Engagement Dynamics opens up endless, easy integrations with the systems you need. And because it's built on top of Microsoft Dynamics 365, you get a seamlessly integrated CRM out of the box. Whether it's your learning management system (LMS), badging system, accounting software, website content management system (CMS), or other core systems, we have you covered.
One of the powerful benefits of having Dynamics 365 as the driving engine of your AMS is the native, seamless integration with the entire Microsoft ecosystem. Integrations with familiar tools like Excel, Outlook, and Teams mitigate the change cost for your team when you implement a new AMS. Additional integrations with The Power Platform, Adobe Sign, or the hundreds of connectors built into Power Automate open access to everything your team needs, in one place.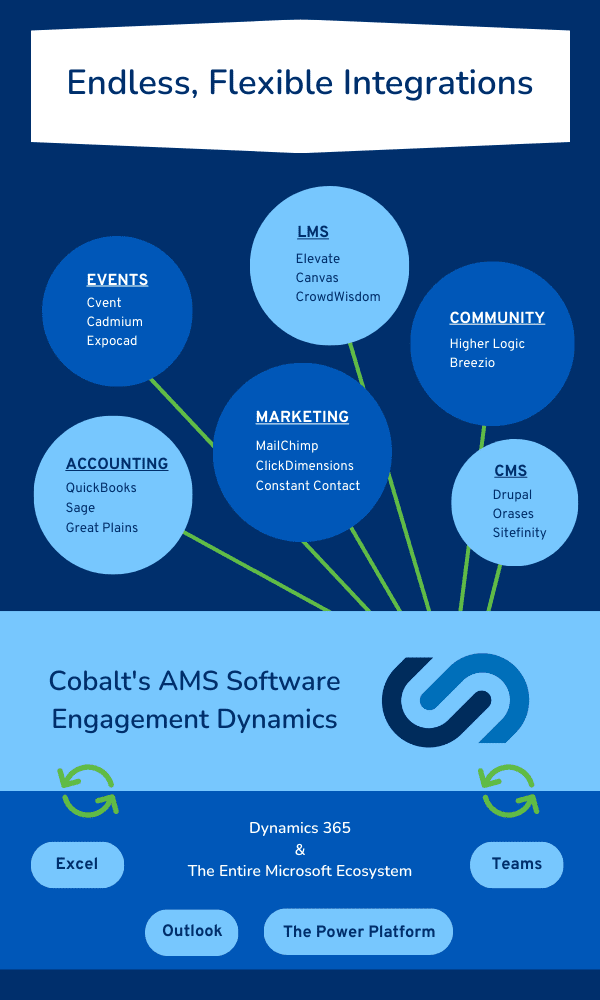 Security and Privacy
The security measures and privacy controls for both AMS systems and CRM solutions continue to evolve. Of course, so do the tactics of hackers and those that would love to access your association's data. Microsoft's enormous investment in industry-leading security is another reason so many membership organizations trust Dynamics 365 for their CRM system.
Cobalt and Microsoft are both committed to protecting your association's data and ensuring it is secure. Microsoft has continually enhanced its operating systems, cloud services, and software applications to integrate advanced security features. These include regular security updates, built-in firewalls, encryption technologies, and multifactor authentication. Microsoft has consistently emphasized privacy and providing users with control over their data.
You can also find information about the precautions Microsoft Dynamics 365 takes to protect your data here – Data Protection with Microsoft Privacy Principles | Microsoft Trust Center.
Through features like privacy settings, data transparency, and user consent mechanisms, Microsoft strives to empower users with the tools to manage their privacy preferences effectively.
We understand how important security and privacy is, especially when it involves sensitive data. No one wants their business to be affected because of a security breach. We make sure all customer data is treated confidentially with restricted access. These are protected with specific locations, user access, and security permissions. We also use protection settings and encryption when dealing with passwords or other sensitive information.
Scaling and Customizing Your AMS System
Engagement Dynamics is built with many low-code and highly customizable options to make changes easy for association staff. As your association's needs evolve, it's simple to add additional features to our AMS system.
Scaling for growth is also easy. We can handle your expanding membership base, increased data volumes, and diverse administrative requirements without compromising performance or the user experience for your members.
AMS System ROI vs CRM System ROI
The investment your association makes in a CRM or AMS system is huge. Of course you want to see substantial ROI. Once more, Microsoft's CRM system shines in this regard. They recently released an independent study commissioned by Forrester Consulting to measure the benefits and cost savings of eight businesses using Dynamics 365 Sales.
Over three years, the benefits included 2.9M in increased sales, 2.5M in improved seller productivity, 695K in faster seller onboarding, and 675K in improved sales manager productivity. The total risk adjusted benefits came out to be about 10.7M. Overall, they estimated 215% ROI over three years.
Calculating the ROI on your AMS system investment will hinge on many factors, including the complexity of your implementation and how much historical data you migrate to your new AMS. Those factors generally have the largest impact on your up-front costs. The ongoing user licenses and pricing structure for Dynamics 365 is much more affordable than other leading CRM solutions, which could also directly affect your ROI.
But one of most critical factors in determining your actual ROI is the amount of buy-in you have from your association staff. The best CRM or AMS in the market could have poor ROI if your staff and members won't use it, or haven't adapted once you make the switch. But the potential ROI Dynamics 365 comes with, along with everything Cobalt does to understand your association's true needs and configure your AMS system accordingly really help minimize the risk of a low ROI.
Questions for Associations Evaluating AMS Systems and CRM Solutions
Asking the right questions at every stage of the AMS or CRM evaluation process is so critical to finding the right-fit solution. Our AMS Buying Guide has 50 of our most helpful questions for your staff members — and AMS vendor prospects. You'll find things like:
Does this AMS system or CRM have the modules you need?
Is the AMS flexible and extendable?
What does the post go-live support look like after adopting the AMS?
What are the AMS system reporting capabilities?
Is there good CRM or AMS vendor fit with your association?
Take a closer look at these five questions, now.
More Resources About the Value of AMS Systems
Whether you are a part of a well-established association that needs a new AMS system or you are doing research about a new CRM solution, we have more resources for you. Each of these is based on Cobalt's deep experience in connecting associations with the vital information they need to make confident choices about their next AMS or CRM system and partner.
Wondering about the current cost of implementing a new AMS?
Read our post: How Much Does an Association Management System Implementation Cost?

And while you are here, check out these related resources:
AMS vs CRM for Associations: Which is Best?
Stay or Go: Why Change Your Association Management Software?
---