Inside the CRM for Associations Debate
If you're looking at a CRM for associations, you might be wondering if you'd be better off with an AMS. The association management system (AMS) versus customer relationship management (CRM) system debate isn't new!
It continues to be a hot topic because more organizations see the need for software solutions that align with their unique business needs and organizational goals. Costly systems without much flexibility for integrations are less popular than ever.
This is my bread and butter. I've been working in the association world (mostly on the tech side) since the mid-90s. In this post, I'll quickly give you the inside take on CRM for associations with some practical questions you can ask in your search.
Take Cobalt's Buying Guide With You
I'll unpack this more later in the article, but here's the spoiler. A CRM for associations with an AMS built on top of it is the ideal solution for most mid or large-sized organizations.
No matter where you are in the CRM or AMS search, take a copy of our 2023 Buying Guide with you. It's a serious, 51-page resource with our best practices, budgeting advice, insider questions for vendors, and more.
Some Relevant CRM for Associations Backstory
Before we dive into this complicated question, let's backtrack to the 90s, before an AMS vs CRM debate even existed. If you understand how we got to the current market offerings, it will help you understand what you're actually getting with an AMS or CRM system for your association today.
In the early 90s, the association management landscape offered just two choices: iMIS or a custom-built solution. This led to an extremely fragmented market where custom application development vendors all scrambled to find clients to serve as their launching point into this growing space.
Over the next 10 years, things settled a bit and you began to see more AMS vendors. Folks like Avectra (now Ablia) were gaining traction in the market. Some segmentation between vendors began to surface. Companies serving the medium to large national associations started to cluster, while others served smaller associations or niche markets within the larger association market.
The barrier to entry for new AMS vendors was now at an all-time high. The number of new players tapered off quickly. Yes, there was a brief period of disruption in the late-90s when a few ASPs (application service providers) and .coms crashed the party, but they mostly faded away.
CRM for Associations: A New Option for Membership Organizations
Just after the turn of the century (it still seems strange to use that term for 2000), a few companies made a new move. They were already working in the association space. But they decided that they could take existing customer relationship management (CRM) platforms and use them as the foundation for a new breed of AMS.
Using platforms built by larger companies with huge R&D budgets reduced the barrier to entry for these vendors. It allowed them to provide competing, compelling offerings in the AMS space. These systems had very robust customer relationship and engagement tracking capabilities — and open platforms for building customizations.
At first, associations were leery of these new offerings. But as vendors began to show strong results, they started to gain some momentum. Of course, the more traditional AMS vendors took notice of this and eventually responded.
Today, many of the market leaders have now added more CRM functionality to their systems to compete against the CRM-based systems. We have also seen several vendors attempting to offer CRM for association solutions without AMS modules. These vendors have had very little success. When stacked up against the true AMS or AMS + CRM solutions in the market, they just can't handle some core association needs.
Let's carry this abbreviated history of the AMS and CRM for associations market over the past 20 years forward. As you're shopping for the right system (or combination of systems), there are three primary options to compare. As with most of my posts, I am focused on the market we typically cater to at Cobalt: medium to large national or regional associations with at least 10 staff members.
Option 1: Standalone CRM for Associations
The standalone CRM option is the selection of a commercial CRM and either customizing it yourself or having a consultant work with you to configure it to meet your association needs.
Microsoft Dynamics CRM and Salesforce are the most common CRMs for association. They have long proved to be the leaders in customer service for small (10s) and midsize (100s) teams.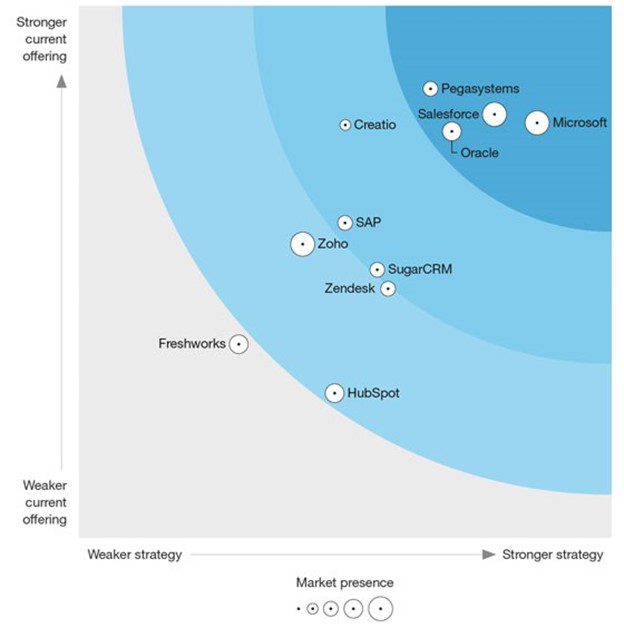 *The Forrester Wave: Customer Service Solutions for Small and Midsize Teams, Q3 2022
Option 1 Pros
Inexpensive to Get Started — The upfront licensing costs are the most significant advantage for this option. These costs can vary depending on the number of bells and whistles you want to add. But for between $95 (Microsoft) and $150 (Salesforce), each vendor offers a solution to meet most, if not all, of your CRM needs.
Stability & Security — The other big plus here is the backing of multi-billion-dollar companies and their multi-million dollar R&D budgets. You'll see a huge benefit from all of the money poured into strengthening the product offering, security, and more.
A Huge Pool of Options and Resources — Similarly, the number of companies and users running these applications dwarfs all of the AMS providers combined. This broad user base means information and documentation are abundant. You can Google almost any question you have and get dozens of helpful answers.Not to be forgotten, you also have access to a larger talent pool of product expertise to pull from when hiring new staff.
Flexible Integrations — Lastly, modern CRM systems are a great option if you have other software systems that you want to integrate with. Microsoft's Dynamics 365, and many other CRM platforms, are compatible with free connectors that you can use to bridge your tech stack together seamlessly.
Option 2 Cons
No AMS Functionality — The main downside associated with this option is the need to hire a firm or independent consultant to add all of the association management features to the system.
Yes, these systems are very robust CRM systems, but if you need to track membership applications, renewals, conferences, volunteers, etc. you will need to add that yourself.
While customizing the staff interface with new tables, forms, and fields is pretty straightforward, adding customer-facing web functionality is another story. You will definitely need a developer to create your online membership applications, meeting registrations, profile updates, etc. This can be costly and carries significant risk.
Option 2: Going the Traditional AMS Route
This option would have your organization selecting one of the well-known, established AMS vendors, including iMIS, Personify, NetForum Enterprise, ACGI and Aptify.
I'm sure that these five would hate me lumping them into the same category, but they are the leaders in the medium to large association space. There are other great vendors out there if you are a smaller organization and this infographic from Capterra is a great place to start if you are looking for a comprehensive list. You an also get a feel for AMS pricing here.
Option 2 Pros
Deep Association Experience — Since all of these vendors have been offering solutions to associations for more than a decade, industry knowledge is a huge plus. These groups are 100% focused on offering solutions to membership organizations. Their staff is made up of industry veterans who understand the day-to-day operations of an association.
Some Integration Flexibility — In addition to this, most of them offer integrations with other association solutions including online communities, conference registration and exhibitor management solutions, etc. 
Option 2 Cons
Dated Systems and Processes — Of course, this laser focus can also be a weakness. These systems are often built on platforms and processes that are now 20 years old, making upgrades and process reengineering difficult.
Too Slow to Change — Additionally, having a set customer base or position in the market has led to some vendors becoming complacent because they know that the pain and cost of their customers switching keeps defection fairly low.
Definitely do your research upfront to find the best AMS solution to fit your needs. It would also be a miss for me not to share this similar blog on why you shouldn't expect the world from your AMS. Think of it as a hub that works with the rest of your tech stack.
Option 3: A CRM for Associations That Includes an AMS
The third option is truly the best of both worlds. Cobalt is one of the companies I mentioned in my abbreviated history of CRM for associations. We're a vendor who have leveraged our experience in the association market to build first-class AMS functionality on top of a world-class CRM system.
We call our AMS Engagement Dynamics, and it runs seamlessly on top of Microsoft Dynamics 365. Since we rolled our Engagement Dynamics in 2004, we've worked with hundreds of association partners.
A solution like Engagement Dynamics gives you all of the pros from Options 1 & 2, without the cons. It would be unfair and inaccurate if I did not mention once again that several of the traditional AMS vendors outlined above have done a great job of responding to the need for CRM features.
But with the continual advancements from Microsoft and Salesforce, it's tougher than ever for even the largest AMS vendors to keep up.
Final Thoughts and An Invitation
I hope my historical look at the CRM for associations market and breakdown of your three major options are helpful in your research.
I know I've painted with broad strokes here, and that each platform and vendor has particular strengths and weaknesses. Due diligence in this process, especially early on, has always been one of the biggest indicators of success or eventual disappointment.
Cobalt's seasoned team of experts loves the opportunity to help association's ask the best questions as they assess options. No matter where you are in the CRM for associations or AMS search today, I hope you'll connect for a quick intro call. We can answer your big questions in a very short meeting, show you a CRM and AMS combination that hundreds of associations have loved, and hand you other helpful resources.
---