A sales process flowchart is a great way to capture, define, or reimagine your team's sales efforts. In our conversations with organizations, we hear "We don't actually have a sales process … " more often than you might think. If that's where you are today, this post on building a reliable, strategic sales process flowchart is an easy way to get started.
You can use the details in this overview tutorial with a variety of tools or CRM platforms. We're a Microsoft Dynamics 365 vendor, so that's what I'll use for my examples. Using a truly mature, robust CRM like D365 means you'll get a built-in, sophisticated, customizable foundation for your sales process inside the core software your team uses. That's a gigantic benefit many sales directors don't realize — and something you won't get with free or entry-level systems.
---
Why build a Sales Process Flowchart?
Standardizing your day-to-day sales activities takes the guesswork out of your team's efforts. That such a key to freeing them up to prioritize what's important. Having a sales process flowchart has three valuable benefits:
We've written about the importance of having a sales cadence with step-by-step plans for how to build one. And, we'll be real here – it's not easy! Building a repeatable process for your sales team to follow takes a lot of thought. Making one that works for your sales team will take some tweaking over time.
But the rewards are incredible, and we've seen firsthand how a well-honed sales process can benefit a sales team. The right sale process flowchart and adjustments helped our team grow revenue by 106% over a two-year span!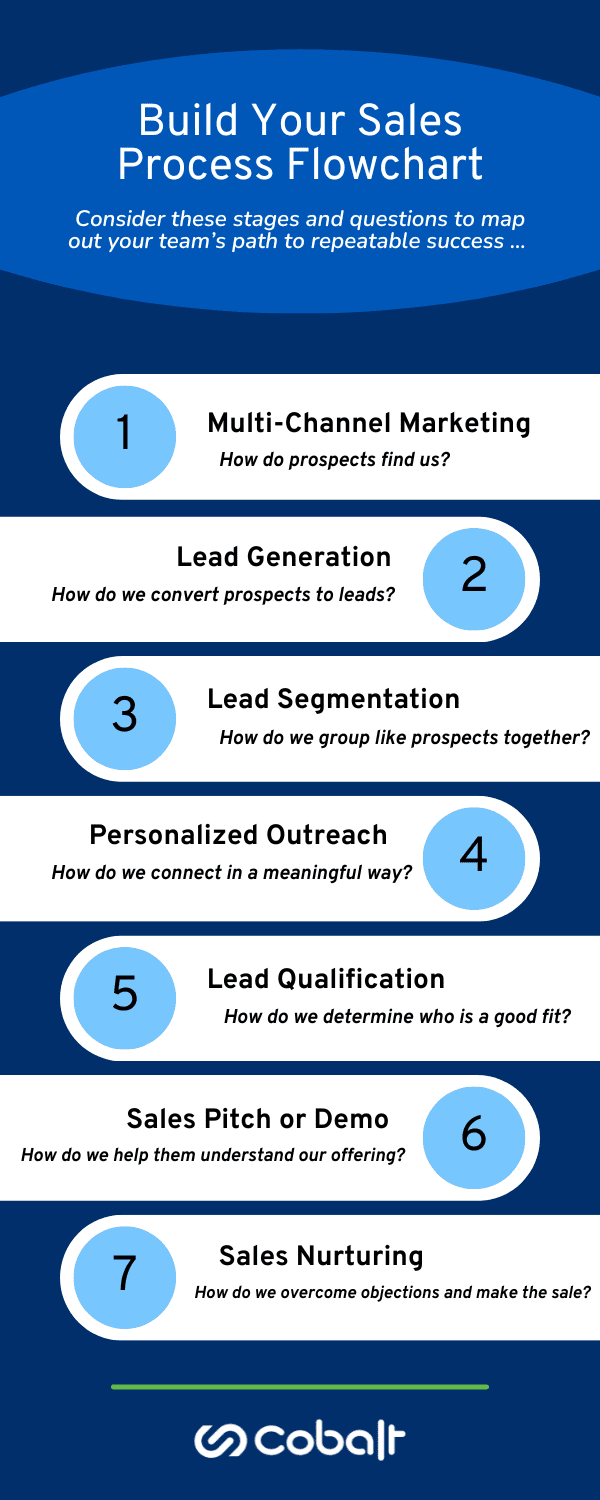 Why D365 Sales?
Starting from scratch can be daunting, especially when it comes to creating an entire sales process. That's why we love using Dynamics 365 Sales to shape our sales processes. The built-in sales process flow and tools available are designed to make creating a defined sales process easy. That low barrier to starting is balanced with mature features to customize your sales process flowchart enough to truly align with your team's needs.
Sales Process Flowcharts: Start Here
You can build your sales process flowchart and outreach directly in D365 Sales, thanks to business process flows (BPFs) and sequences.
Business process flows take care of the data for your sales team. They provide milestones that your team should be aiming for in your process. There are stages that correspond to your sales process and fields that need to be filled out as a result.
This is an extremely flexible, customizable way to ensure the data in your CRM is clean and being collected as completely and consistently as possible. Can you imagine the difference that will make in your reporting?
And here's another bonus. It makes the data-entry part of your sales cycle way easier. No more scrolling through fields trying to find the right place to take notes!
Details About Your Sales Sequences
Read my blog on CRM data management best practices. It has more details about how having a BPF can help your sales team and your CRM's data.
Your new BPF ensures the information your team is learning in their outreach is tracked and up to date. And it means you can utilize sequences, another standard offering in mature CRMs today.
Sequences help your sales reps use consistent timing and messaging in their communications with leads and prospects. Nothing is worse than realizing you forgot to follow up with a potential opportunity, and missing the opportunity (pun intended!) to make the sale.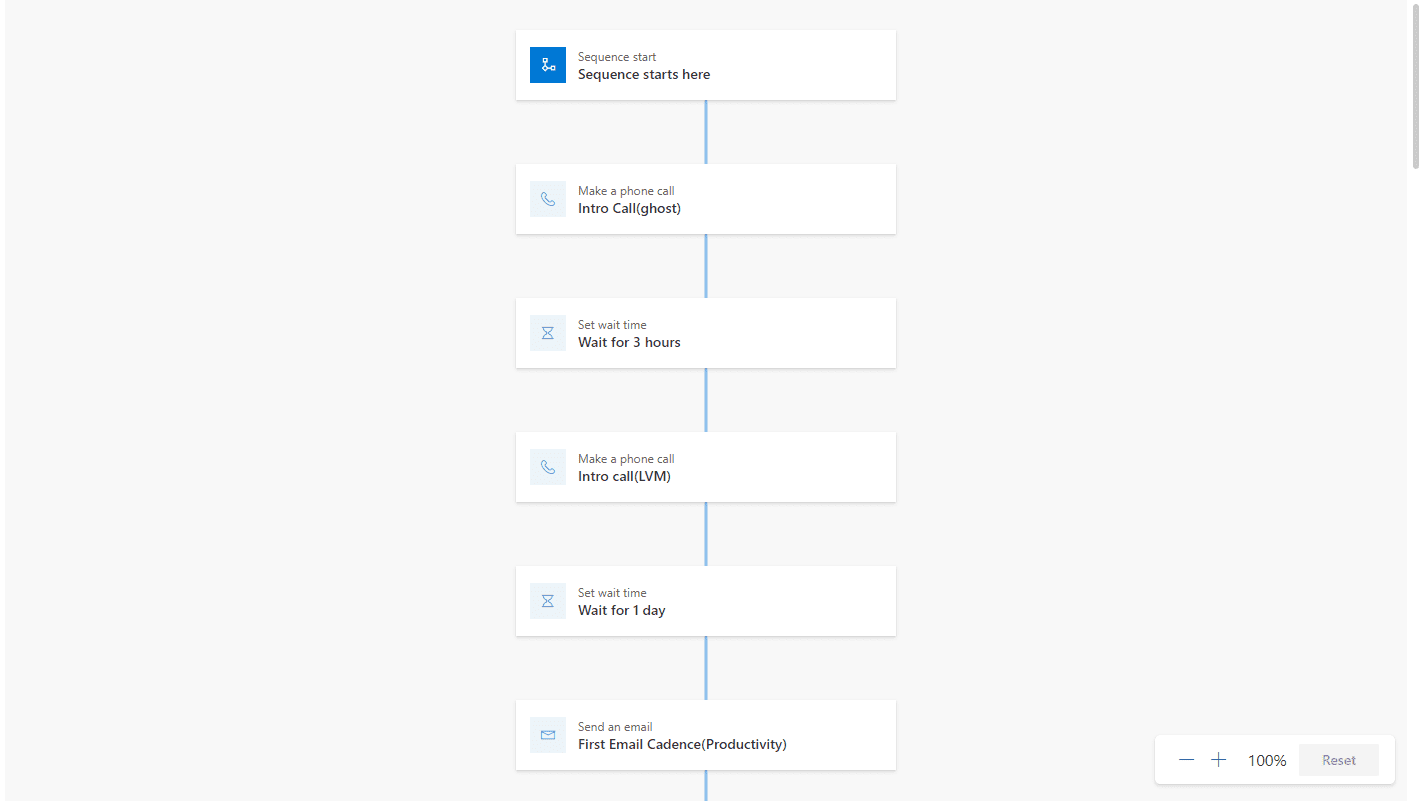 In your sales process flowchart, you should include the exact sequence of events you'd like for your sales team to follow when conducting outreach. That will likely involve some mixture of calling, emailing, or even connecting with prospects on LinkedIn!
You can automate your outreach efforts via a standard sales cadence in D365. Our team has seen how much this helps sticking to our sales process easier. Through sequences, you can predetermine this part of your sales process.
For example, you might decide that prospects will get a call and email on Day 1, another call on Day 2, and another call and email on Day 5. These tasks get created in the CRM for your sales team to check off.
Sales Accelerator in D365 Sales
As a part of D365 Sales' functionality, tasks that are a part of a sequence get added to the Sales Accelerator. This is a unique tool in the D365 Sales platform. We think of it as a supercharged "To Do" list that our team can see and complete right within the CRM.
Keys to Streamlining Sales Outreach
You've got the foundation of a sales process flowchart built.
Now what?
Here's what we tell teams before they ramp up sales outreach efforts. The sales process can feel like an endless cycle of emailing to set up calls, and calling to follow up emails. But D365 Sales makes sales outreach so much easier with native, seamless integrations with Outlook and Teams.
This is truly one-stop-shop functionality inside your CRM. We frequently use the "click-to-dial" functionality to make our outreach calls. That comes with cutting edge analytics like sentiment analysis, real-time selling suggestions and more we utilize.
Check out our AI for Sales blog for more information about the built-in AI analytics that you can use as a part of your sales process.
Automated Emails in Your Sales Process Flowchart
You can send out emails directly from your CRM environment, too! This functionality isn't limited to sequences. You can easily draft, edit, and send out emails directly related to the person or lead you're talking to.
There's a ton of email functionality built into D365 Sales. One feature we find extremely helpful is the ability to track emails and have them show up directly in that record's activity history.
If tools and functionality like this prove helpful for your team, you need to roll them into your sales process flowchart! Think of that has a living document you edit and actively manage, and you'll probably already be distancing yourself from competition in your industry.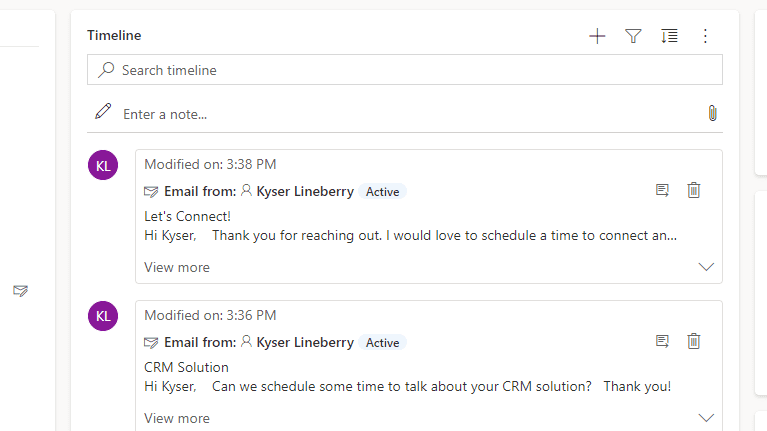 The days of searching your inbox for that one email from two months ago are now over. That's absolutely going to speed up your sales process and reduce frustration with your business development reps and account managers.
Instead of trying to remember when, who, and exactly where you messaged someone, you can now easily see all relevant communications between you and a lead in one location! Best of all, you can even filter the communications to just phone calls or emails.
Document Follow Up in Your Sales Process Flowchart
You've set up your tasks, you've sent your emails, and you've had your meetings. Sometimes, it's just not a good fit … yet. We've had our fair share of "right business, wrong time" and we know how frustrating it can be. The last step in your sales process shouldn't be moving on and forgetting about them (as tempting as it can be). Instead, document your process for following up!
It's all too easy to forget about when to follow up with those "just-missed" leads. Your sales process flowchart and CRM eliminate the ambiguity around when you should send out another phone call or email.
Microsoft Dynamics 365 has some nifty tools to help you remember when to follow up. In fact, there's even automation available for those follow-up messages! That means they can be sent without your sales team needing to keep track of that person on top of their existing priorities.
We've actually written a whole blog specifically on how you can combine D365 Marketing and D365 Sales to create the ultimate sales sequence, even after a lead is no longer active.
Creating Your Next Sales Process Flowchart
I hope the overview in this post helps you see the major components of an effective sales process flowchart. You can tweak and refine them endlessly, but getting started with a basic one can be relatively quick.
That's even more true if your CRM is already organized around the proven, most effective sales outreach methods teams are using today. Microsoft Dynamics 365 has a lot to offer in that respect.
But the best sales process flowchart and process — even the perfect CRM — are only as good as your team's ability to really use them. That's a place where Cobalt's decades of expertise shines. From the very beginning of the implementation process onward, we're here to help make sure you're not wasting your CRM investment.
We're a growing SMB with finite sales and marketing resources. And our industry-leading support team LOVES to show teams exactly how we use the tools we sell. Let us help you build or refine your sales process flowchart and core business processes with a CRM made to make your life easier. Let's connect for a brief intro call soon!
---