We all know the dirty secret of the business world that many companies still don't talk about openly. Many times, the sales and marketing alignment just isn't there. Somehow, these departments don't exactly communicate with each other as often or effectively as they should. Right?
Daily standups, expanded brainstorming sessions, and other tactics can bridge the gap somewhat, but here's an even better opportunity: create tangible sales and marketing alignment for your team when you consolidate their key metrics into a single dashboard. When the data from both sides of the house is visible and accessible in one place, both teams can use it to their advantage in a variety of ways.
Using Dynamics 365 Sales and Dynamics 365 Marketing within the same environment is a good starting point. But I've gone two steps farther and created a detailed guide for exactly how to integrate Power BI, Google Analytics, Dynamics 365 Sales, and Dynamics 365 Marketing, into a single, integrated, powerful dashboard.
Today I want to outline four likely scenarios that underscore the value of setting up this part of your infrastructure and why better sales and marketing alignment will yield superior business insights and decision making.
Find a New Outreach Approach with Better Sales and Marketing Alignment
Scenario 1: A Business Development Representative (BDR) hasn't been getting a lot of traction with their outreach, and they want to try a few other things. They want to explore what has been working on the marketing side of the house.
The BDR can see one email was much more effective than another. The BDR can then go into the Dynamics 365 environment and find the email that was most effective.
At that point, they can analyze what they think worked about the email and try that approach in their cold outreach to see if it makes a difference. When everything is integrated in one place, it makes that kind of informed experimentation possible.
Keep Prospects Interested through Stronger Sales and Marketing Alignment
Scenario 2: An Account Executive (AE) has a sales opportunity that has gone cold. They want to send over some relevant marketing materials to keep the opportunity warm. However, they aren't sure what they should send.
The AE looks at their opportunity notes and sees the most important thing to this prospect was reporting. At this point, they might think "we have a ton of blog posts around reporting," but they aren't sure which one they should send.
With an integrated infrastructure it's easy hop over to the Google Analytics page and search for report in the slicer.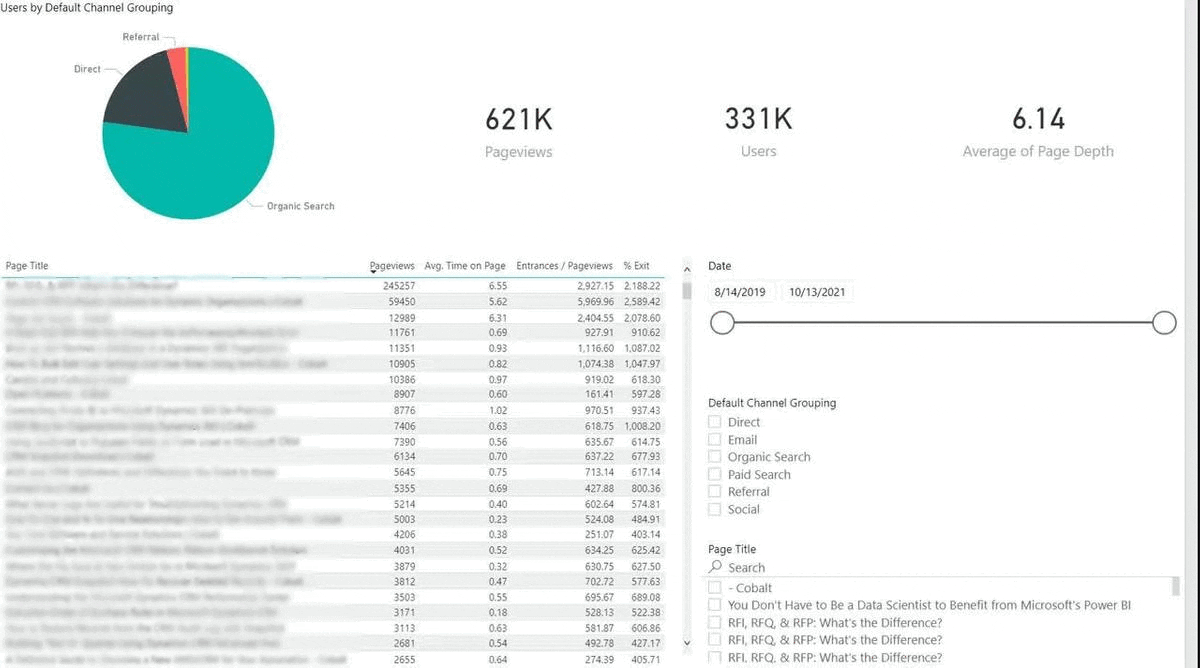 With this view, they can see that one reporting page is doing a better job of holding users' attention, so the AE chooses to send that page over to the opportunity.
Rethink Campaigns Quickly Because of Sales and Marketing Alignment
Scenario 3: Marketing is thinking about launching an email campaign, and they want to make sure they are targeting the right people in their efforts.
Let's say the marketing department has been really focused on messages and connecting with people in a sales role. When your marketing, sales, and other data are all being pulled together in one place, it makes it possible to see helpful anomalies or trends.
For instance, they might see that many of the qualified leads recently have and job title 'IT Director' job title.
That's a huge insight they might never have noticed, otherwise. With the aggregated information though, they can switch the focus of their next campaign.
Tailor Content Production After Sales and Marketing Alignment
Scenario 4: Marketing is planning their content efforts for the quarter. They know their average sales cycle is approximately a year, so the opportunity pipeline will only change slightly over the next couple of months.
With this view, marketing can easily see that most of the sales pipeline is still in the early stages. That will have a big impact on the kinds of content they will focus on next for the sales team: infographics, cut sheets, and other educational assets their sales team can pass along to prospects.
It could be that the combined dashboard reveals a pipeline with prospects concentrated in the late stages of the sales cycle. In that case, your marketing crew would be poised to create more product-specific assets.
Get a Powerful Step-by-Step Guide to Better Sales and Marketing Alignment
Have I convinced you to consider combining the data from these two critical teams yet? I hope so, and I hope you'll let me walk you through exactly how to do it in this post. You'll see how I've combined data from Dynamics 365 Sales, Dynamics 365 Marketing, and Google Analytics together into one thoroughly useful dashboard in Power BI, the flagship application in the Power Platform.
And, if you really want to take a deeper dive into how all these pieces can radically strengthen the sales and marketing alignment for your organization, let's talk about specific applications and possibilities for your team in a product showcase.