It's easy to make the CRM RFP process harder than it should be — and to still wind up with a system that doesn't really address your priority business processes. I've been on the receiving end of countless CRM software RFP requests in my work at Cobalt since 1996. Here are four of the biggest mistakes companies make and an overview of the ideal CRM RFP process.
Why Teams Complicate Their CRM RFP
Few decisions a company or association make are more important than choosing a CRM (or an AMS). Not only is CRM software expensive, but it serves as the lynchpin for all of your business practices. Everything from customer service to sales to marketing depends on this.
For all but the smallest organizations using an entry-level system, a new CRM often takes months to customize to your specifications. And then you need to train your entire staff on how to use it. Saying "it's a big investment" really is a giant understatement.
Unsurprisingly, all of this inspires some extreme due diligence in the CRM selection process. I've seen many companies spend tens of thousands of dollars to hire a consultant who will guide them through this process. They spend hours and hours in meetings to craft a mile-long specification wish list. And then? They compose an equally detailed CRM RFP and blast it out to dozens of vendors.
What these well-intentioned companies don't know is that this approach is probably alienating the very CRM vendors that could best serve their needs. And, they'll soon find out they've created an excess of unnecessary work for their team.
If you place too much upfront demand on a vendor, then the most qualified CRM providers will often opt out right away. You'll get a disproportionate amount of responses from the most desperate (i.e. low quality) vendors.
Here are four mistakes I see companies make when going through the CRM RFP process. Avoid these pitfalls, and you'll be way ahead on this complex project to find and implement the right system for your organization.
1. Don't Place All the Due Diligence Demand on the Vendor
It's not uncommon for a detailed CRM RFP to take upwards of 40 hours for a vendor to complete. If I suspect the sender sent the same RFP to dozens of vendors, I know that my chances of winning the contract are extremely low.
I often delete that kind of email without a second thought.
That's especially true if I receive a CRM RFP like this during a good sales month. I'm far better off fielding much warmer leads. 
I recommend companies absorb most of the upfront due diligence labor for two reasons.
First, it helps ensure you're taking your own internal assessment and needs seriously. Too many teams skip over that or give it enough attention.
Second, when you perform more research ahead of time, you'll narrow your list of CRM RFP recipients to truly outstanding candidates.
Most CRM vendors churn out piles of online content that detail their offerings. You can often determine whether they might be a good fit without asking them a single question.
As a seasoned CRM vendor, if I know I'm only one of a handful of vendors to receive your CRM RFP, I'm far more likely to participate in the process.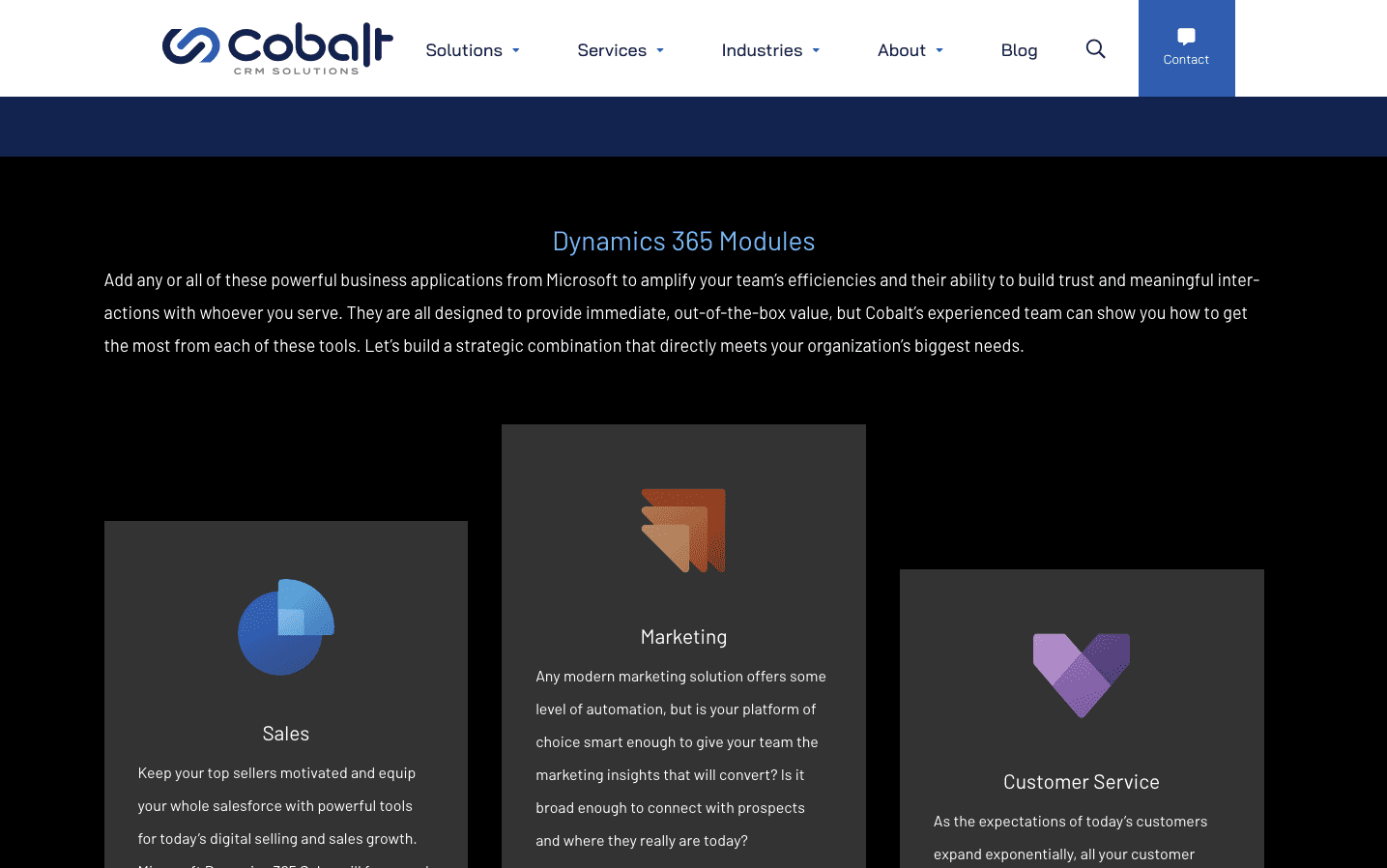 2. Resist Adding Too Much Specificity to Your CRM RFP  
I've seen RFPs come across my desk that ask upwards of a thousand questions. They go far beyond a CRM software's capabilities and try to force the vendor to estimate how many hours it will take to implement these capabilities.
Creating dependable CRM implementation budgets and timelines are profoundly important for everyone involved. We've built much of our reputation through a customer-first approach that features reverse demos, project charters, transparent contracts, and other tested means of getting very clear about what it costs and how long it will take.
But truthfully, most of the questions in a bloated CRM RFP can only be answered with "it depends." Do you have questions about whether a piece of functionality exists "out of the box" (versus needing to be customized or configured)? That almost always depends on what level of functionality you need.
When you apply the "it depends" metric to dozens (or hundreds) of questions, you end up with a very wide range of estimates. It's hard or impossible to really see what amount of configuration you'll need — or what it will cost. There are far better ways to get at this!
Oftentimes, I think a CRM customer would be better served by sending out a request for information (RFI) instead of a request for proposal. That's a higher-level document that outlines your general requirements and asks the vendor to give a summary of their history, capabilities, and price ranges. The more specific questions can be asked during a demo.
By the way, many professionals confuse requests for proposals (RFPs) with requests for information (RFIs) and requests for quotations (RFQs). Read about the differences (and when you need which one): RFI, RFQ, & RFP: What's the Difference?
3. Request Demos Before the Finalist Stage
You can ask as many questions as you'd like in your CRM RFP. But you'll still never truly understand a vendor's offering and expertise until you see a demo. And yet, most teams wait until after they've reached the finalist stage before requesting one. 
Preliminary demos are often quick to set up for a potential customer. And while they won't be fully customized to your specific needs, you can still get a basic feel for how they work in an hour or less of your time.
When you conduct your due diligence prior to sending out your CRM RFP, reach out to vendors. Let them know you'd like an overview demo. You'll be surprised by how many agree to it.
You're almost certain to get a sense of whether their system will fit your needs. Plus, you'll have a chance to ask all of your basic questions before moving on in your research and CRM selection.
4. Offer Constructive Feedback to All Your CRM RFP Finalists 
The finalist stage is especially onerous for the vendors. Once you feel you have a legitimate shot at winning a contract, you're willing to put a lot more work into demonstrating that your offerings truly are the best.
This includes configuring the CRM to the prospect's needs and taking them through a comprehensive demo of the product. All told, you can easily spend 100 hours (or more) by the end of the entire process. 
And occasionally, despite all that work, you won't win the contract. Which is perfectly reasonable; after all, the client could only pick one.
Even still, after giving a prospect so much attention and energy in the pitch process, some constructive feedback from the prospect would be so helpful. We always like to know why we didn't win.
That helps my company with future pitches and it's a show of goodwill and appreciation from the prospect.
Over the years, I've sometimes reconnected with someone who has moved on to another company after going through the CRM RFP process with us. When they wanted us to bid for a project with their new company, it made a difference!
Summarizing the Ideal CRM RFP Process
There are other pitfalls you could land in along the way to finding your next CRM system, but these are the most common ones. If we pull back and look at an overview of how the CRM RFP process could do in an ideal world, I think it looks something like this.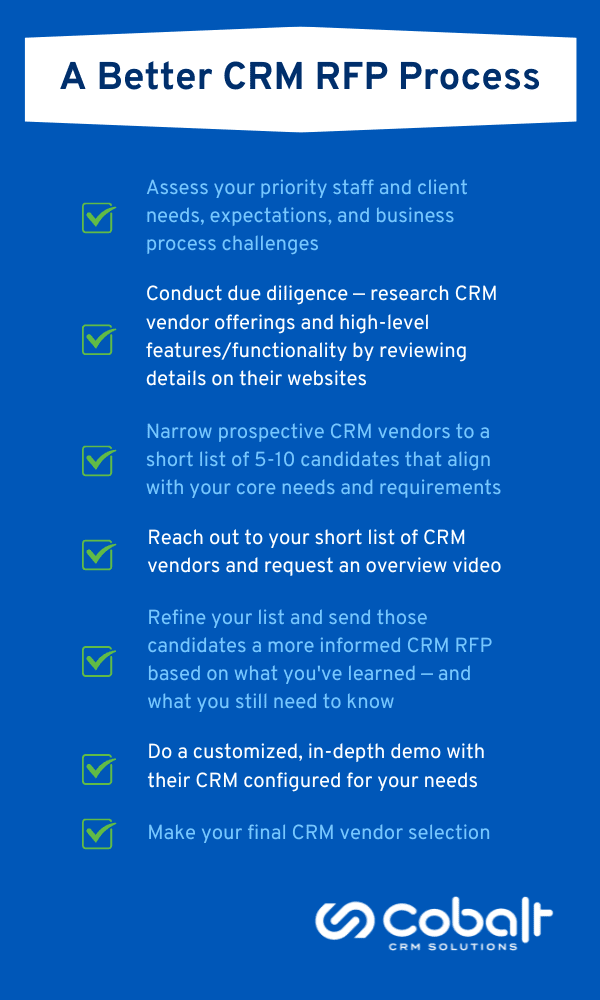 My Best CRM Software RFP Advice
Associations have long been one of the cornerstone partners for our team at Cobalt. The association management software (AMS) system we've built for them runs on top of a world-class CRM: Microsoft Dynamics 365. We've been through the CRM RFP process hundreds of times since 1996.
I've boiled down my best advice about how to plan for and navigate the research and selection process for a new AMS or CRM. Reverse demos are one of the things I highlight in our 2023 Association Management Software Buying Guide. They have become one of the most important parts of our early conversations with partners — but many vendors don't offer them.
Before you go today, take a copy of that buying guide with you. It's a detailed resource you can share with stakeholders on your team. No matter where you are in the search, it will help you navigate the CRM RFP process with far fewer setbacks and headaches.