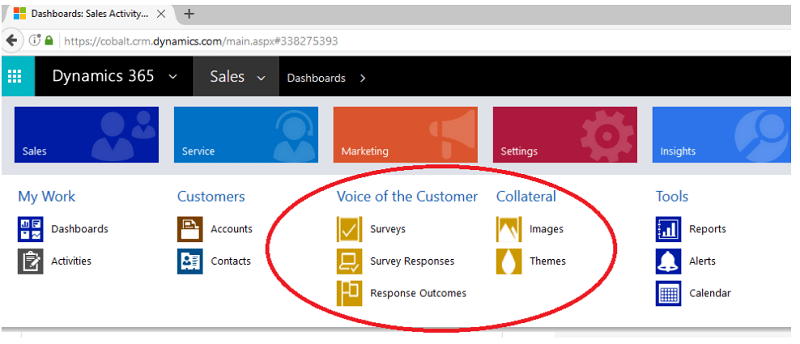 Introducing Voice of the Customer
Unless you truly understand  your customer's experience, you can keep losing business and blaming it on ineffective marketing campaigns, bad staff performance, the economy, or other factors that have nothing to do with the real cause. Of course, the simplest solution would be to simply ask the customer about their experience, but there's no guarantee they'll answer or provide truthful feedback.
Enter online surveys: When deployed effectively, they can provide an easy and cost-effective way to find out if your customers are truly satisfied with your service and product. But how do you craft and send the survey in such a way that will increase the likelihood a customer will fill it out?
If your organization uses Microsoft Dynamics 365/CRM, you would be excited to know that you already have all you need to set yourself up for a success. Microsoft Voice of the Customer (VOC) is a survey module introduced in Microsoft Dynamics CRM Online 2016 Update 1 and later, which means if you have Microsoft Dynamics 365, you have access to this tool. VOC allows you to design, share, and analyze customer surveys and responses.
Installing Voice of the Customer
The first thing you want to do is install application in your Office 365 admin panel. Once it is installed you can start using survey functionality, or you can play with additional configuration in the Settings tile. For step by step instructions, click here.
Creating a New Survey
You can personalize a survey using standard themes or create your own in the Themes section. If you would like to add a logo or any other images as part of the survey you can add it in the Images section.
Once you are happy with the theme, just go to Survey section and create a new one. Switch to a designer form and drag and drop questions you are most interested in.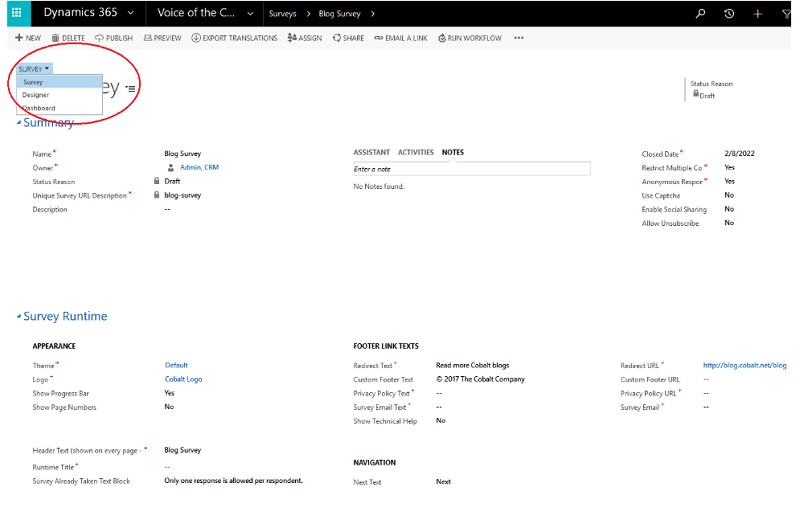 Not only do you have a variety of question types to choose from, but you can also take advantage of a couple unique features, such as:
Piped Data:

If you would like to add a personal feel, you can pipe data you want to import. This will allow you to move from more generic survey to a personalized one that addresses the customer directly and references specific actions they took.

Conditional rules:

Why ask all your customers the same questions? Routing rules will help you ask only relevant questions based on previous responses to help you further analyze the situation. Remember, the rule is to keep it short and relevant to the person taking the survey.

Send survey multiple ways:

Use anonymous surveys if you care about feedback on the service or product and non-anonymous if you need to know what this specific customer thinks.

Follow up actions:

Trigger different actions based on the response. If one of the questions was about potential interest in one of the other products you offer, create a follow up task or quote. A survey will help you not only understand your customer's satisfaction, but it can also bring you additional revenue.
Analyze Responses
Use prebuilt dashboards to analyze survey responses. Be open to hearing positive or negative feedback and look for any trends that suggest a change in your business processes, products, or services.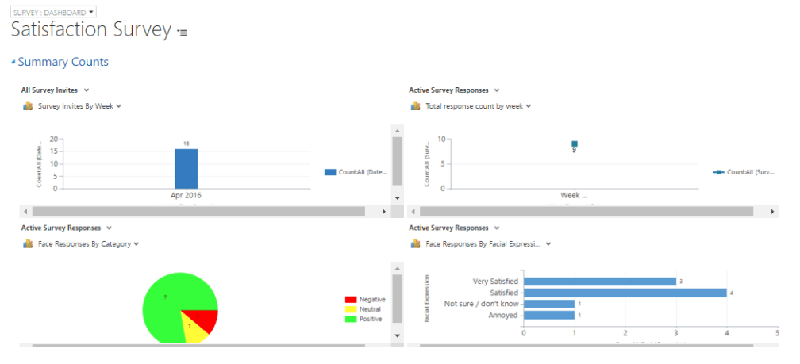 Just remember, unless you are ready to lose 89% of your business, you cannot afford not knowing what your customers think of your products and services.
What to give me feedback and experience Voice of the Customer? Click HERE and take a survey.