Power BI vs Excel feature comparisons are easy to compile, but which one does your team really need? Are Power BI or the other applications in The Power Platform from Microsoft worth adding on if you're already using Office 365? I wrote this post to help you answer questions like these quickly and confidently. I'm drawing on the Cobalt team's decades of Microsoft expertise with these five reasons to consider adding Power BI to your tech stack in this Power BI vs Excel comparison.
If you want to go deeper into functionality questions, business processes, use-case scenarios, or look at pricing options for your team, let's connect for a quick introduction call. We're experts at helping sales, marketing, and leadership teams understand exactly how to get more from their CRM investment with Microsoft Dynamics 365 and The Power Platform.
What is Power BI used for?
Power BI is Microsoft's go-to business intelligence tool and it's primarily used to help teams and decision makers at organizations understand the critical data, insights, and trends that will help them serve their customers, generate higher sales revenue, and other business processes. Power BI uses intuitive, appealing data visualizations to help users understand complex data relationships so they can quickly pivot, reallocate resources, or take advantage of hidden opportunities their data reveals. To understand what Power BI is used for more clearly, read a real-world case study where Cobalt helped the Events Industry Council uncover an untapped market using Power BI.
How is Power BI different than Excel?
The differences in Power BI and Excel are significant, but let's recognize that Power BI has many of Excel's most loved features, including:
calculated cells and columns
embedded charts
Power Query
easy-to-use data source connectors
But Power BI also has a lot more to offer. You can think about it as Excel on steroids. Power BI is different than Excel primarily because its depth of functionality can radically scale an organization's data analysis and business intelligence gathering processes. Let's look at five specific ways that Power BI's expansive capabilities make it useful for most growing organizations.
Power BI vs Excel: Collaboration Features
Excel's collaboration features are limited—users can work on an Excel worksheet hosted in an online location, but that is about the extent of it.
Power BI's sharing model is much more robust. Users can author Power BI reports and dashboards and share them out to other users and/or applications so they are easy to find (see my Power BI report sharing article to see our top three picks for sharing out Power BI reports).
Power BI's collaboration functionality really stands out when it comes to permissions and data sharing.
Report authors can limit permissions at the data level by using Row Level Security (RLS). These rules can limit data visibility at the row level. This is helpful when you have many various types of users accessing the report.
We can also limit permissions when we share the report in the Power BI service. It is easy for users to share an entire workspace with many people, giving everyone access to all reports within the workspace. It is just as easy to give a colleague view-only permissions to a single report. The infinite access options can accommodate any security model.
Creating visuals in Power BI is the easy part—it's the work of cleaning up and modeling the data before you can create the visuals that takes a bit of training. Analysts can create dataflows and/or shared data sets where they do the data legwork, and then publish those out to colleagues so other people can easily create their own reports and dashboards as needed.
Power BI vs Excel: Stunning Visuals
Let's face it—no matter how much you dress it up, an Excel report still looks like an Excel report. Excel charts can get the job done but look a bit clunky.
The interactive Power BI visuals blow Excel's out of the water. Power BI includes many of the basic visuals included in Excel, but the power really comes from the amount of control you have over the settings within that visual.
Business users can easily design reports that look like they were created by a graphic designer. You can even upload a custom theme and apply that to your entire report. Power BI visuals will add a layer of polish to your reports and dashboards that Excel just can't compete with.
Power BI vs Excel: Ability to Handle Large Datasets
The closest I've ever been to throwing my computer against a wall is when I was getting the dreaded 'program not responding' message while trying to edit a massive Excel sheet. It's no secret Excel can't handle millions of data rows—the entire application crashes.
According to this Microsoft article, Excel will max out at around two million rows of data. If you want to do some analysis on a high volume table, such as page views, you can only analyze those views over the past couple of months before you begin to run into issues. However, it is important to look at trends over long periods of time to account for short term spikes and declines.
If you want to look at trends over the last couple of years, you will need to switch to Power BI.
Power BI has built-in compression technology that allows the application to handle that kind of volume. Depending on your license, a Power BI report can contain anywhere between 1GB – 10GB worth of data. Power BI also has caching and incremental refresh capabilities built in to make your reports run even faster.
By the way, if you're curious about the different Power BI licenses, (including Power BI Free), take a minute to read my teammate Hanool's post: Power BI Free vs Pro vs Premium for a breakdown on the functionality and pricing differences in Power BI licenses.
Power BI vs Excel: Automatic Refreshes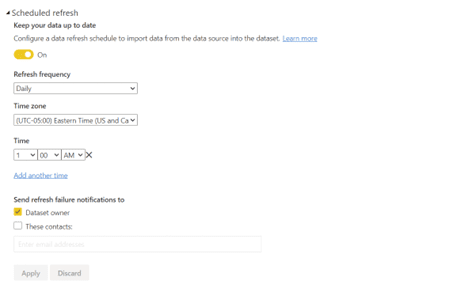 Excel's automatic refresh capabilities are limited to a checkbox that lets you specify if the data should be refreshed upon opening the file—meaning if nobody opens the file, the data becomes stale. This also means waiting a couple of minutes for the data to refresh every time you are ready to work with it.
Power BI allows users to schedule automatic refreshes in the Power BI service. We like to set the refresh to trigger in the middle of the right so users can wake up to the most up-to-date information and get started with their day.
Power BI vs Excel: Alerts for Faster Business Decision Responses
Companies need to be making data-driven decisions to thrive in the current economy—which means there is a lot of data collection happening. However, access to all of this data can cause confusion over which numbers need to be closely monitored.
Enter in Power BI alerts. Users can easily set thresholds for their Power BI reports and will be alerted when a number drops or exceeds a certain number. This functionality can be useful for data changes that need immediate action.
A great example here is a quick increase in incoming customer support tickets. If there is a huge spike in support tickets, that could point to a larger issue like a core feature in your product suddenly not working, a website being down, etc. These issues need immediate action, or customer satisfaction could plummet before your organization even realizes something is down.
Excel doesn't have an equivalent feature, so Power BI has a huge advantage here.
Can you combine Power BI and Excel?
You can connect Power BI to a long list of data sources—and Excel is one of those available data sources. However, we all know the more a piece of software can do, the more complicated it is to use. Even the most seasoned Excel aficionado might get tripped up on Power BI's DAX syntax.
If you are doing a one-time analysis of data and you are more comfortable doing data transformation in Excel, you can do that work in Excel and then use Excel as your data source. You can import data from Excel in Power BI quickly by clicking the 'Excel workbook' button in Power BI Desktop.
Then, you can take advantage of the Power BI visuals without needing to learn the ins and outs of DAX.
Power BI vs. Excel: Final Thoughts
Power BI is a valuable tool that can facilitate efficient and thoughtful decision making for your organization. As companies continue to use data to navigate the ever-changing economy, Power BI will be a tremendous asset for sales and marketing managers, leadership teams, and more.
Cobalt can help with all your Power BI needs—from providing training for your staff so they can build their own Power BI reports and dashboards to building and maintaining the reports for you. Use the link below to schedule a no-pressure product showcase with our team. We'll quickly give you clarity into how The Power Platform and our team can help as you weigh the value of Power BI vs Excel for your organization.
---