Understanding the Power Automate license model can be confusing, even for veteran Microsoft users. In this post I clearly break down the user and subscription models, explain who qualifies for a Power Automate free license, and summarize the current Power Automate license costs.
What is Power Automate?
Power Automate is Microsoft's no-code/low-code automation platform and one of the five applications included in the Power Platform. It allows business users without developer expertise to create "flows" that automate time-consuming, routine tasks using a drag-and-drop designer.
In my recent article outlining what Power Automate is (and why your Sales team needs it to stay competitive), I show how it connects seamlessly to your Dynamics 365 Sales environment. That post also gives some concrete examples of how Power Automate can "level up" various processes — making your team even more efficient.
Is Microsoft Power Automate Free?
Technically, there is no Microsoft Power Automate free license, but many users get a Power Automate license at no additional cost because they already pay for another Microsoft product (such as Dynamics 365 Sales). Before we look at how that works, let's clarify a common confusion point.
Microsoft often uses the umbrella term 'Power Automate' when talking about two different things: Power Automate cloud flows and Power Automate Desktop. It might be easiest to understand the difference between cloud flows and desktop flows by looking at when to use which.
Power Automate Cloud Flows
Power Automate cloud flows should be used if the thing you are automating can all happen within a web browser (or within your Outlook Desktop app). A good example might be setting up an automated flow that is triggered when you get an email from a specific person. We'll look at cloud flows in more depth in just a minute.
Power Automate Desktop Flows
You want to use Power Automate Desktop and the flows it creates when you are working with legacy desktop applications, applications without an API, or when building an API for the application wouldn't be cost-effective.
Power Automate Desktop uses robotic process automation (RPA) to automate repetitive desktop processes. You could use Power Automate desktop to automate the following processes with just a click of a button:
Extract data from a website and store that data in an Excel spreadsheet
Scrubbing and merging datasets
Automating data entry in an ERP system
Microsoft made Power Automate Desktop available to all Windows 10/11 users at no additional cost back in 2021. Still, there is a critical limitation to the free version of Power Automate Desktop described below.
Microsoft Power Automate License Types: Free vs Paid Users
Let's break down exactly who needs to pay for a Power Automate license and what the pricing options are for your team.
Power Automate Free License Model
Microsoft uses 'Seeded Plans' to award Power Automate licenses based on a user's licenses for other Microsoft products. This means if you already have a license for a Microsoft product, you can create Power Automate cloud flows related to that product for free. You can even include premium connectors, if applicable!
Here are some examples of Power Automate cloud flows you could create for free depending on the license you have.
If you have a Microsoft 365 license package (you have access to Outlook, Teams, Word, PowerPoint, etc.), you could create the following flows without any additional license:
Send an email for new Tweets about a certain keyword
Save email attachments to OneDrive
Send a push notification when a new email arrives in a shared inbox
If you have a Dynamics 365 Sales license, you could create the following cloud flows without any additional license:
Send an email to Director of Sales to approve a final quote
Send a customer voice survey to a customer after an invoice is paid
Analyze the sentiment of emails tracked to Dynamics and update a customer satisfaction score on the contact record based on the results
Paid Power Automate License Options
Microsoft offers paid Power Automate licenses by user or by flow. Those licenses are also available on a subscription or pay-as-you-go basis. However, getting this functionality for free through another Microsoft license is a huge plus!
If you have some sort of Microsoft license, we recommend trying to build the flow with your existing license and see what you can do. You may be surprised what you can accomplish without any extra cost. You can find detailed pricing information and the fine print about each of these paid licenses here, but the current Power Automate license rates are:
(Subscription Rates)
Base User Plan: $15 per month, per user
User Plan with RPA: $40 per month, per user
Cloud Flow License: $100 per flow, per month (five flow minimum)
(Pay-As-You-Go Rates)
Per Cloud Flow Run: $0.60
Per Desktop Attended Flow Run: $0.60
Per Desktop Unattended Flow Run: $3
Power Automate Flow Limitations
Here is a helpful summary of what's possible with Power Automate cloud flows and the flows you can create with Power Automate Desktop.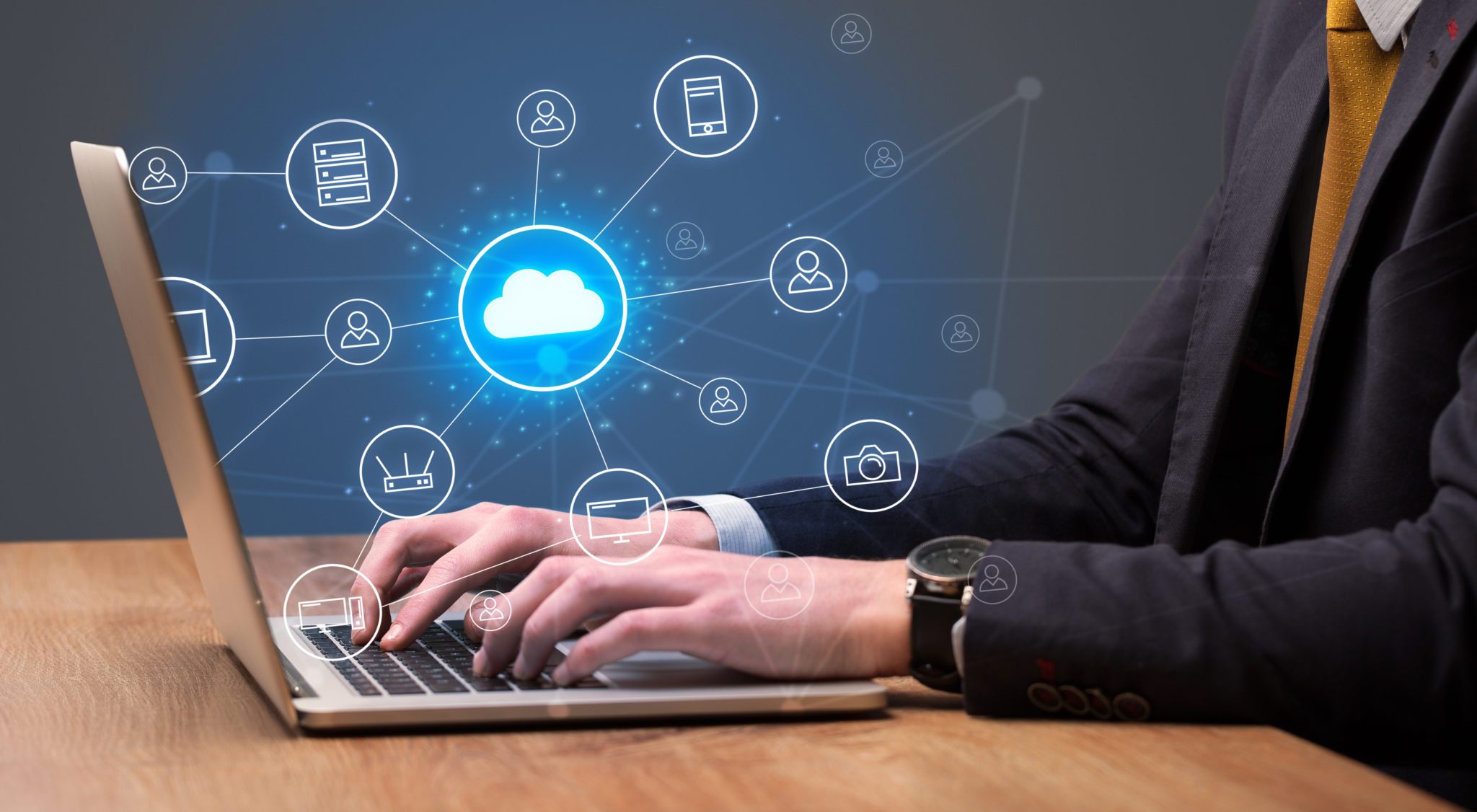 Cloud Flows
There are no limitations on Power Automate cloud flow designs. You can easily create unlimited, multi-step flows with filters and conditional logic. You can also include Webhook connections, test using an auto-replay function, and export your flows to reuse in different environments. This is huge in the "middleware" world! This level of flexibility with a competitor like Zapier will run you about $400 a month.
However, there are limits on the number of "Power Platform requests" a user can trigger each day. Microsoft outlines what exactly counts as a Power Platform request here, but your average user shouldn't be concerned about hitting the limit. For example, users with a Dynamics 365 Sales Professional license can make 40K requests within a 24-hour period. Most people won't come close to this.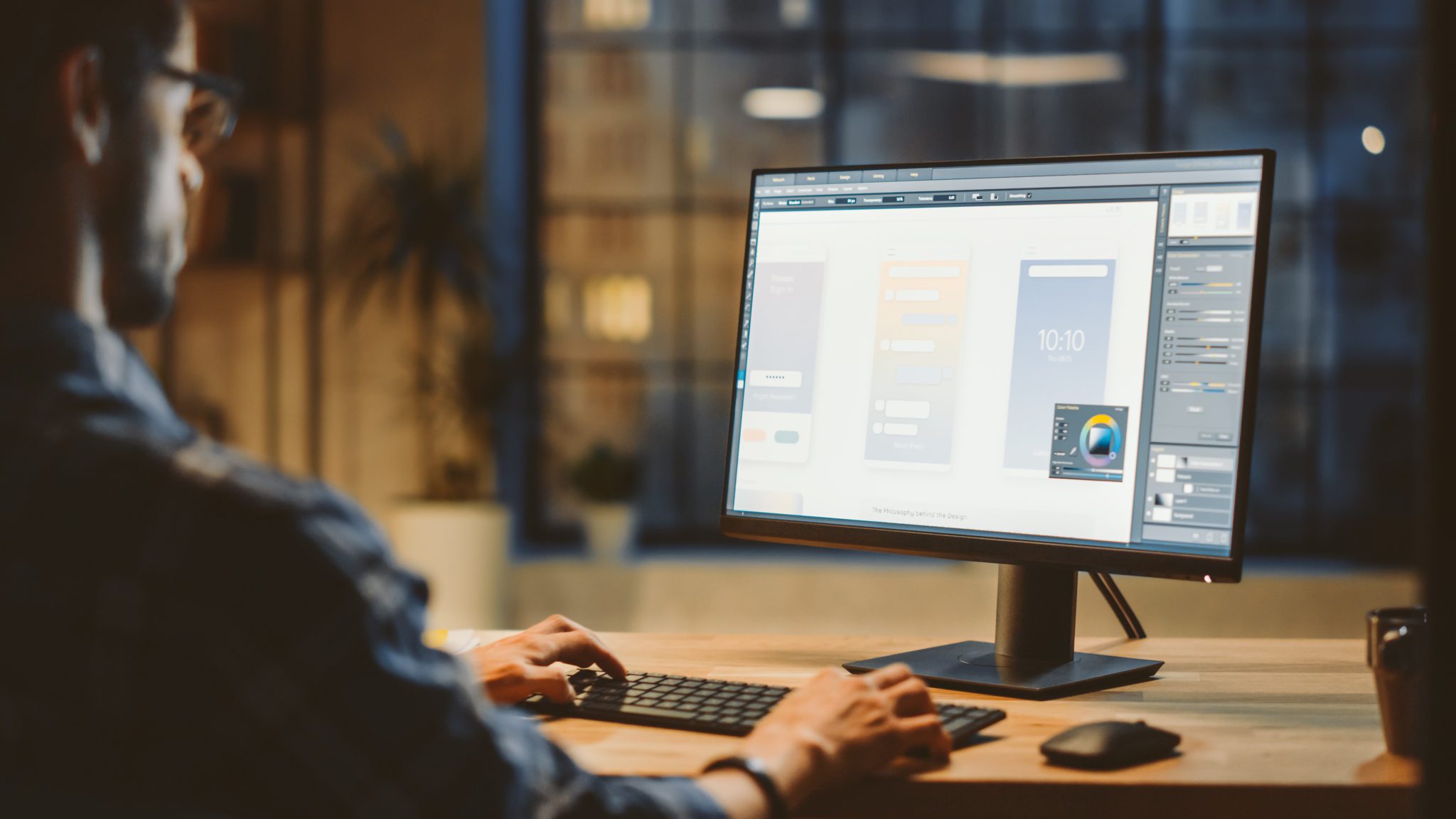 Desktop Flows
The biggest limitation with the free Power Automate Desktop license is the ability to run what Microsoft refers to as "unattended flows."
The automations created within Power Automate Desktop with the free license need to be initiated by a user. This means you can automate any of the desktop flow examples I gave earlier — but you have to physically be there to click the 'start' button.
If you want the Power Automate Desktop automation to run while you are asleep so it doesn't interrupt your daily work, you will need to buy at least one unattended RPA add-on package. This begins at $150 a month.
Comparing Power Automate License Functionality
I know I just gave you a ton of information … and this STILL might be confusing to you. Here is a comparison chart of Power Automate cloud flows and Power Automate Desktop based on what other Microsoft product(s) you already have access to (this comes directly from the June 2022 Microsoft license guide).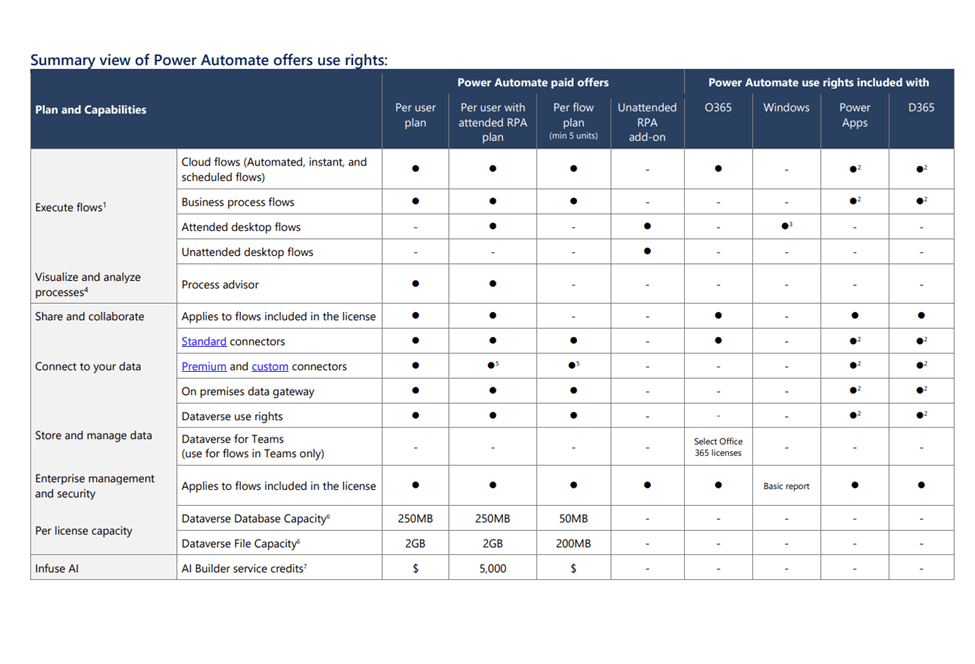 Here's just one common example and way to understand this table. Let's say I have a Dynamics 365 Sales license and I am working on a computer that runs Windows 11. According to the above table, I would have access to cloud flows from my D365 license, and access to attended Power Automate Desktop through my Windows license.
Power Automate License Questions and Support
If you are still unsure about the Power Automate license you need, or you want to learn more about how Power Automate can improve your own business processes, let's connect for a quick, free license assessment.
My team at Cobalt has decades of Microsoft experience. Helping teams like yours understand exactly what licenses you need for Dynamics 365 and the Power Platform is one of the niche areas of expertise we bring that you won't find with most Microsoft partners.
Our license optimization services could even save you enough money to cover the cost of our managed services. For less money than you're paying in license fees right now, you could have more efficient business processes, a happier team, and our expertise on tap exactly when you need it. Let us give your organization a free license assessment and answer your Power Automate license questions.
---